Ballet Philippines presents "Swan Lake" in 2017
Soar high and let Ballet Philippines take you on journeys of enchantment and adventure in 2017 as it presents "Swan Lake," one of the greatest classical ballets of all time, on February 24, 2017 to March 5, 2017 at the Cultural Center of the Philippines in Pasay City.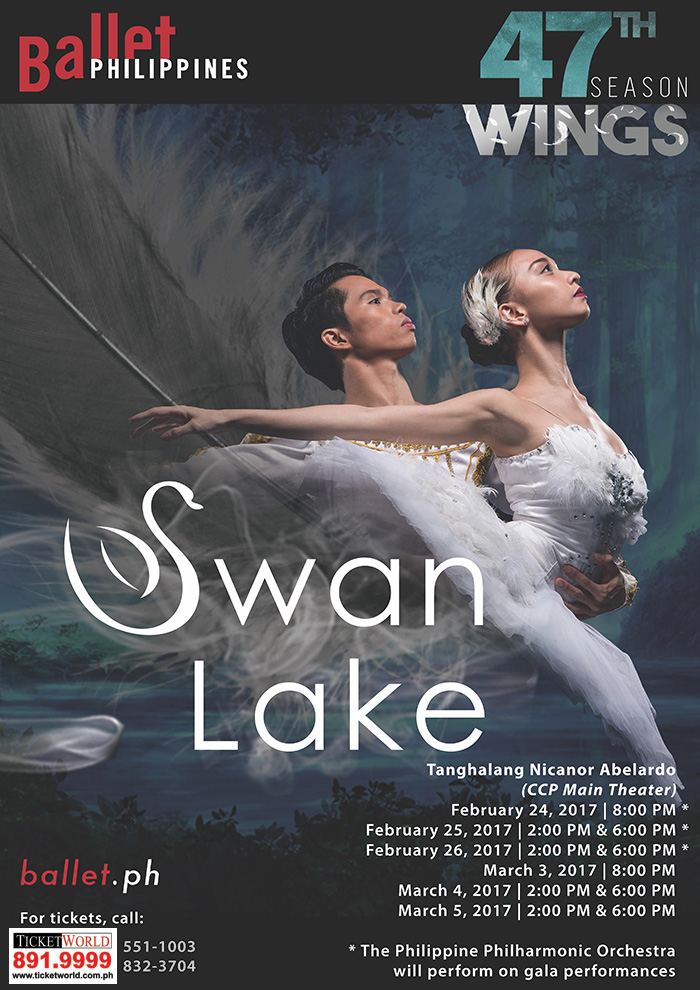 Image grabbed from ticketworld.com.ph
With the guiding spirit of hope, the audience will rediscover these classics in a new light, as brought to life by a vibrant company of dancers in the embrace of live music.
In conclusion of Ballet Philippines' 47th season, "Swan Lake" will stage a grand spectacle of dance following a story of love and forgiveness that transcends time and borders.
Watch "Swan Lake" and witness world-class performance from Philippines' premier danseur, Nonoy Froilan, and a special gala performance from the Philippine Philharmonic Orchestra. Buy your tickets now via ticketworld.com.ph.
Details:
What: Swan Lake (Ballet Philippines 47th Season)
When: February 24, 2017- March 5, 2017
Where: Cultural Center of the Philippines, Main Theater, Roxas Blvd., Pasay City
Ticket information: ticketworld.com.ph
Contact Number: 02-891-9999, 02-551-1003, 02-832-3704