A Very Broadway Christmas in Manila to run on December 11
Broadway actor Andrew Keenan-Bolger will be coming to perform a Christmas-themed concert entitled "A Very Broadway Christmas in Manila" on December 11, 7PM, at the BGC Arts Center in Taguig City. He will be performing alongside West End and Rak of Aegis star Tanya Manalang.
This concert is produced and directed by Tony-award winner Jhett Tolentino who worked with Bolger in the musical Tuck Everlasting. A Very Broadway Christmas will feature a mix of Christmas and Broadway songs. It will focus on Bolger's life as an actor, and how he is frequently away from home during the holidays.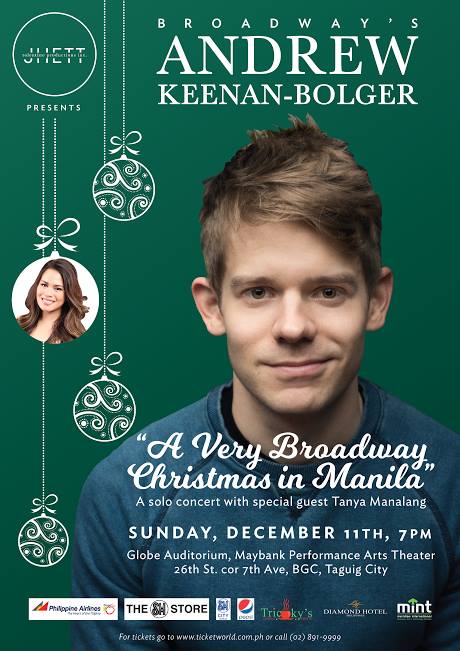 In an article published by Theater Fans Manila, Tolentino mentioned that he gave Bolger 3 Filipino Christmas songs to learn, so as to make the concert more unique and special for the audience. These songs were the Filipino classics – "Pasko Na Naman", "Sana Ngayong Pasko", and "Kumukutikutitap."
Bolger, who was part of Broadway musicals like Mary Poppins, A Christmas Carol, and Beauty and the Beast, is not the first of the many Broadway stars that the Jhett Tolentino Production Inc. plans to bring to Manila. Since most Filipinos can't watch the performances live on Broadway, Tolentino said that he wants to try and bring Broadway to Manila, where directors and stars could give Filipino talents the "Broadway training."
Details:
What: A Very Broadway Christmas in Manila
When: December 11, 2016; 7PM
Where: BGC Arts Center, Taguig City
For tickets, call Ticketworld at 891-9999.
Source: Theater Fans Manila