Repertory Philippines' A Little Princess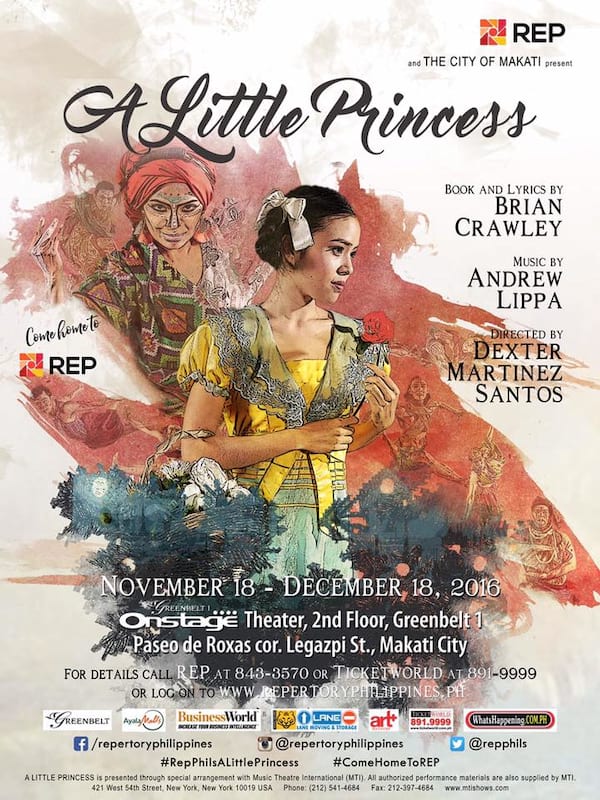 Repertory Philippines' yearend musicale "A Little Princess" will be running from November 18 to December 18 at the OnStage Theater in Greenbelt 1 Makati.
The musical adaptation of the children's novel originally written by Frances Hodgson Burnett was done by Brian Crawley and set to music by Andrew Lippa.
A Little Princess tells the story of Sara Crewe (Maria Gabriella Gil Padilla), a girl from West Africa, who is sent to a London boarding school by her wealthy and adventurous father, Captain Crewe (Noel Rayos). Sara, when in London, then begins to struggle under the cruel headmistress, Miss Minchin, and her envious, snobbish classmate, Lavinia. However, despite all the gloom and the darkness that's over her head, she still manages to turn everything around with a bit of imagination, fun, and magic.
This musical, directed and choreographed by theatre director Dexter Santos, with musical direction by Ejay Yatco, is one that will surely show the young ones the value of kindness, fun, laughter, and love.
Details:
What: REP's A Little Princess
When: November 18 – December 18;
Where: OnStage Theater, 2nd Floor, Greenbelt 1, Makati City
Ticket prices:
P1,254 – Lower and Upper Orchestra Center
P836 – Lower and Upper Orchestra Left and Right
P627 – Balcony
For more information, you may visit REP's website.