Cosplay Matsuri 2016
Get your anime costumes ready and join a festive event—Cosplay Matsuri— on December 28-30, 2016 at SMX Convention Center in Mall of Asia Complex, Pasay City.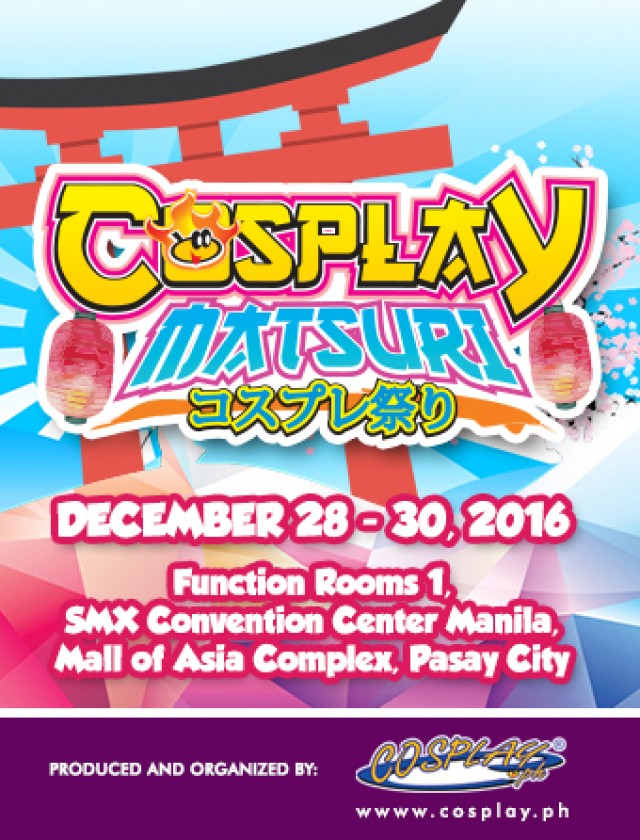 Image grabbed from smcinema.com
This 3-day festival will feature exciting new activities and surprising twists for fans of Japanese anime and culture. Attendees will be able to experience a robust and colorful atmosphere in this event as they party in tune of Japanese music and wear Japanese fashion styles.
Cosplay Matsuri is a gathering of Filipino audience having great interest in the culture of the "Land of the Rising Sun." It is organized by the leading cosplay website and online community in the Philippines, cosplay.ph.
Invite your friends this December and don't miss the chance to portray your favorite anime character at Cosplay Matsuri. Buy your tickets now via smcinema.com.
Details:
What: Cosplay Matsuri
When: December 28-30, 2016
Where: SMX Convention Center, Mall of Asia Complex, Pasay City
Ticket Information: smcinema.com