FUN HOME Broadway Musical in Manila this November 10-27
The most awarded and acclaimed musical of 2015, FUN HOME is coming to Manila this November 10 -27.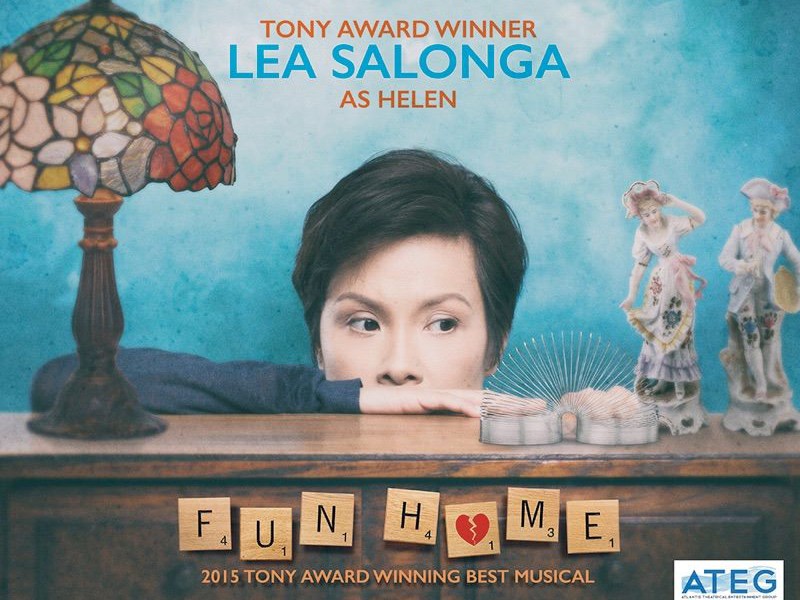 Winning 5 Tony Awards including Best Musical, FUN HOME is a refreshingly honest, wholly original musical about seeing your parents through grown-up eyes. Based on Alison Bechdel's best-selling graphic memoir, FUN HOME features music by Jeanine Tesori and book and lyrics by Lisa Kron. The New York Times calls it, "THE BEST NEW MUSICAL TO OPEN ON BROADWAY." The Opening Night of FUN HOME is the first international production in Manila this November for a limited run of 18 performances only, starring Tony-Award winner, Lea Salonga opposite Broadway actor Eric Kunze.
Synopsis:
When her father dies unexpectedly, graphic novelist Alison dives deep into her past to tell the story of the volatile, brilliant, one-of-a-kind man whose temperament and secrets defined her family and her life. Moving between past and present, Alison relives her unique childhood playing at the family's Bechdel Funeral Home, her growing understanding of her own sexuality, and the looming, unanswerable questions about her father's hidden desires.
Details:
What: FUN HOME Broadway Musical
When: November 10-27, 2016; 8:00 pm (Weekdays), 3:00 pm & 8:00 pm (Weekends)
Where: Carlos P. Romulo Auditorium, 4th Floor, RCBC Plaza, Ayala Ave., cor. Gil Puyat Ave. Makati City
Ticket Prices:
P4,180.00 Orchestra Center
P3,657.50 Orchestra Center / Left
P3,135.00 Loge Center / Sides
P1,567.50 Balcony
Show Schedule:
November 10 (Thursday) – 8:00 pm
November 11 (Friday) – 8:00 pm
November 12 (Saturday) – 3:00 pm /8:00 pm
November 13 (Sunday) – 3:00 pm/8:00 pm
November 16 (Wednesday) – 8:00 pm
November 17 (Thursday) – 8:00 pm
November 18 (Friday) – 8:00 pm
November 19 (Saturday) – 3:00 pm /8:00 pm
November 20 (Sunday) – 3:00 pm/8:00 pm
November 25 (Friday) – 8:00 pm
November 26 (Saturday) – 3:00 pm/8:00 pm
November 27 (Sunday) – 3:00 pm/8:00 pm
Source: www.ticketworld.com.ph