THE MOFFATTS: THE FAREWELL TOUR LIVE IN MANILA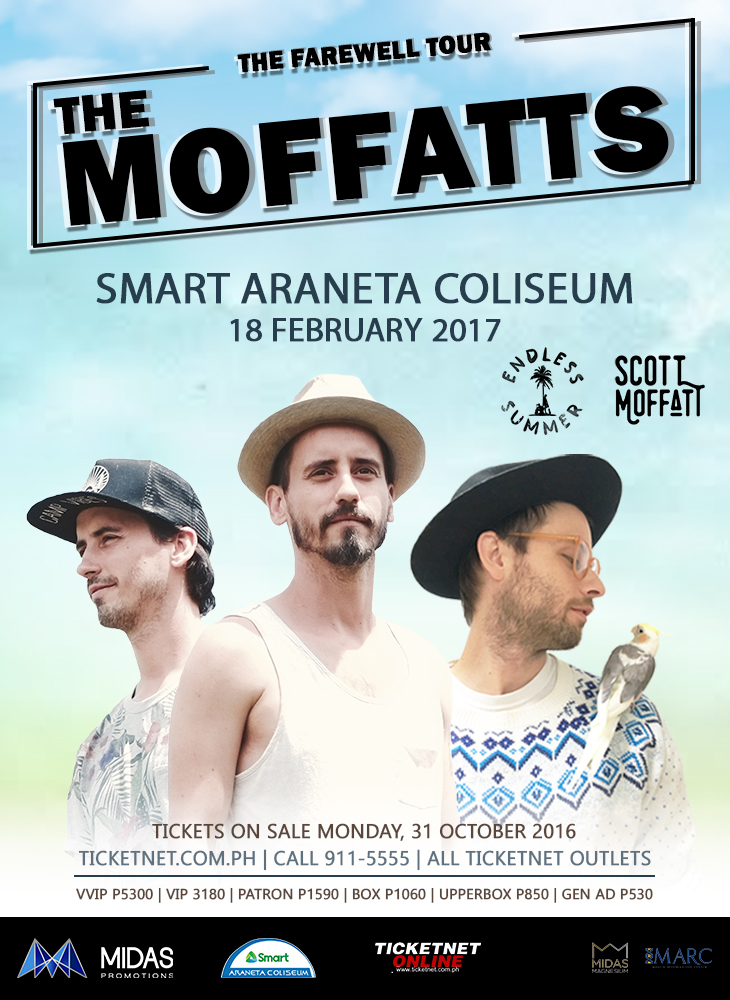 The Canadian Pop-Rock band are returning to Manila for the first time in 16 years with brothers Scott, Clint and Bob set to perform all of their 90's hits one last time. The boys will also be debuting material from their new projects – Endless Summer, and Scott Moffatt, respectively.
The Moffatts have two Classic Hits that rival 'Hotel California' for the biggest international songs of all time in the Philippines – "Miss You Like Crazy" and "If Life is So short". To this day they remain the biggest selling international band of all time in The Philippines.The boys had the largest audience ever at the Hard Rock Café in Manila – in fact the glass at the entrance collapsed from to many people trying to get in. To add to that theyonce had close to 40,000 people in attendance for their SM Mega Mall show in 1998.
The bandhave had 14 hit songs in the Philippines:
I'll Be There For You
Miss You Like Crazy
Girl of My Dreams
If Life Is So Short
Love
Crazy
Misery
Until You Loved Me
Bang Bang Boom
Just Another Phase
Always in My Heart
Girls of the World
Walking Behind
Who Do You Love
What: THE MOFFATS: THE FAREWELL TOUR LIVE IN MANILA
When: February 18, 2017
Website: http://www.midaspromotions.com/
Ticket Details:
Tickets go on sale 10AM on October 31st via www.ticketnet.com.ph / the Ticketnet hotline 911-5555 and all Ticketnet outlets.
Tickets prices range from:
VVIP- P5300
VIP- P3180
Patron-P1590
Box-P1060
Upper Box-P850
General Admission-P530
NOTE – VVIP Tickets will include:
Pre-show sound check party access
A signed and personalised photo card of the Moffatts
A photo with Scott, Clint and Bob
VIP Tickets will include: a signed photo card by all members of the band, and VIP floor seating.