Alay Sining 9
Continuing the cause to help the indigent children suffering from congenital heart disease, the Rotary Club of Makati West (RCMW) will hold its 9th "Alay Sining" event on November 10-13, 2016 at Greenbelt 5 in Makati City.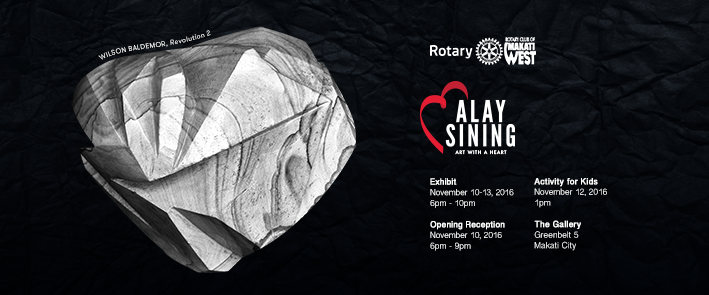 Photo grabbed from Alay Sining 9 by RC Makati West
With the theme "Art with A Heart," the event will benefit the children through the "Gift of Life" program established by the RCMW, which is aimed to raise funds from charitable events. Alay Sining will showcase sculptures and paintings and will sell artworks of the country's great masters and up-and-coming artists.
Since 2005, the program has been helping more than 400 beneficiaries to undergo free heart surgeries. It has been considered as an "indispensable life-saver" not only for the children but also for their parents.
Celebrate art and be part of the cause to help cure children with congenital heart disease this November at Alay Sining 9.
For more information please visit alaysining.rcmw.org.
Details:
What: Alay Sining 9
Where: The Gallery, Greenbelt 5, Makati City
Exhibit: November 10 – 13, 2016; 6:00 pm – 10:00 pm
Opening Reception: November 10, 2016; 6:00 pm – 9:00 pm
Activity for Kids: November 12, 2016; 1:00 pm