Foodscape: A Food Symposium
A gathering of food lovers from different walks of life awaits you as The Urban Food Collective presents Foodscape: A Food Symposium, happening on November 19 and 20 at SMX Aura!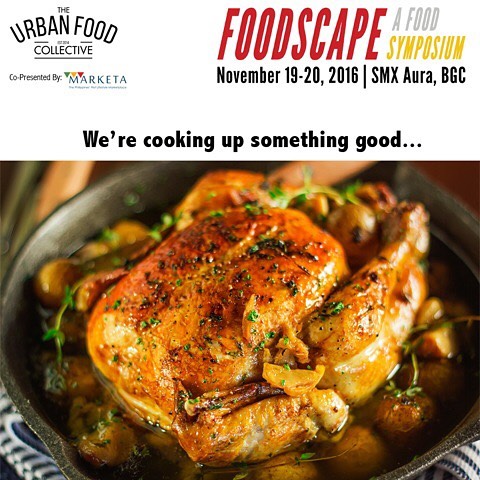 FOOD, FOOD, AND MORE FOOD. It's all about food at Foodscape: A Food Symposium. Image grabbed from Foodscape TUFC Facebook page
Foodscape brings together food lovers from every nook and cranny of the metro and give them a glimpse of the landscape of the local food industry. It's a place where people can comfortable gather, browse, and shop for anything and everything that involves food.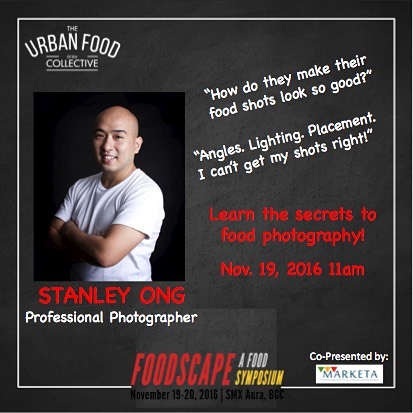 FOOD PHOTOGRAPHY BY STANLEY ONG. Learn the secrets to food photography from none other than Stanley Ong during Foodscape. Image grabbed from Foodscape TUFC Facebook page
SMX Aura will be split into two areas: Market in the City, a place for small entrepreneurs to showcase their products; and Culiversity, where everyone can learn something new through talks given by industry experts and professionals.
Foodscape is the project of The Urban Food Collective (TUFC) in cooperation with Marketa.ph. TUFC aims to be the food hub where people can share their passion for gastronomy. TUFC's online magazine, Dailybinge (www.dailybinge.ph), will feature the latest news in the food industry, reviews on restaurants, and delicious recipes. To bring the online community even closer together, TUFC will champion various food lifestyle events, where foodies can meet and indulge in their passion for unique flavors and gustatory delights.
Foodscape: A Food Symposium will be held from November 19 — 20 at the SMX Aura, SM Aura Premier, Bonifacio Global City, Taguig. For more information on Foodscape, you can visit their Facebook page, Foodscape TUFC.
Details:
What: Foodscape: A Food Symposium
When: November 19 – 20, 2016
SMX Aura, SM Aura Premier, Bonifacio Global City, Taguig City
Facebook: https://www.facebook.com/FoodscapeTUFC/