POWERHOUSE: Pinoy World-class Performers
Celebrate world-class talent at this one of a kind concert starring today's best singers at the Powerhouse Concert at the Theater Solaire on October 28, 2016 (Friday)!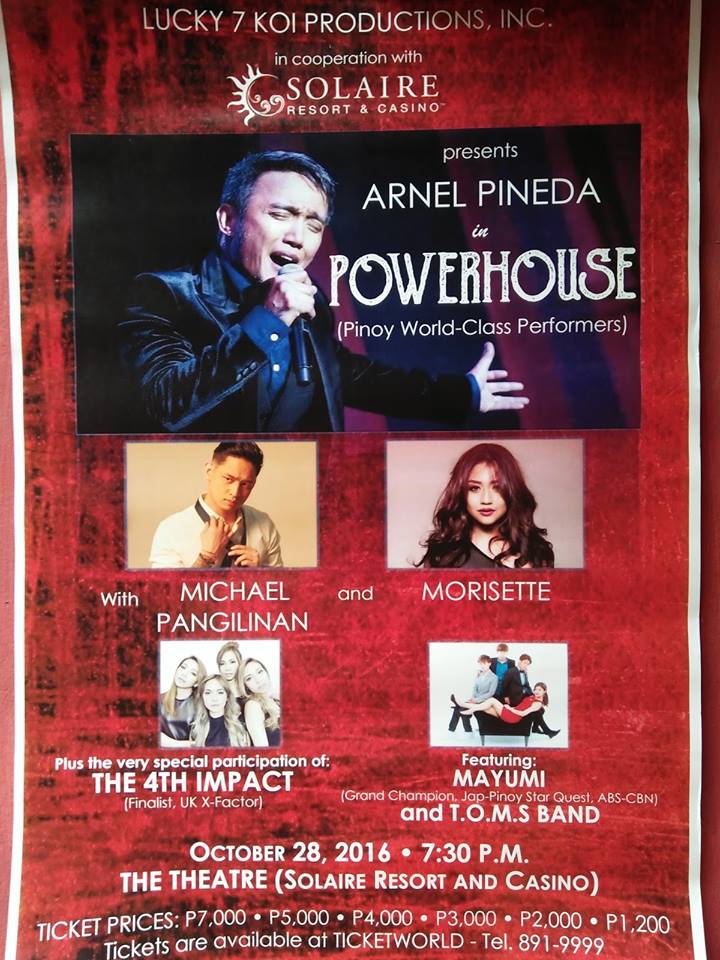 Image grabbed from Arnel Pineda's Official Facebook page
Witness lead singer of American rock band Journey Arnel Pineda, The Voice finalist Morissette Amon, Michael Pangilinan, X Factor UK finalists 4th Impact, and Mayumi & T.O.M.S. perform live and sing their much-loved songs in this one of a kind concert that features an all-Filipino ensemble! Enjoy a night filled with world-class Filipino talent as you sing along to their rendition of all-time hits.
For more information, see details below.
Details:
What: POWERHOUSE: Pinoy World-class Performers
When: October 28, 2016 (Friday); 7:30 pm
Where: The Theatre at Solaire, Solaire Resort & Casino, 1 Aseana Avenue, Entertainment City, Paranaque City
Ticket: P1,254 – P 7,315
Website: ticketworld.com.ph
Contact: 02-891-9999