Learn to work on your own terms: The Freelancer Fair 2016
Freelancing is no longer an obscure career path. More and more Filipinos are exploring this particular career path where they can make money while doing the things they love on their own terms.
If you're looking to explore this career path, then get your tickets for The Freelancer Fair 2016, happening on November 19 at Acacia Estates!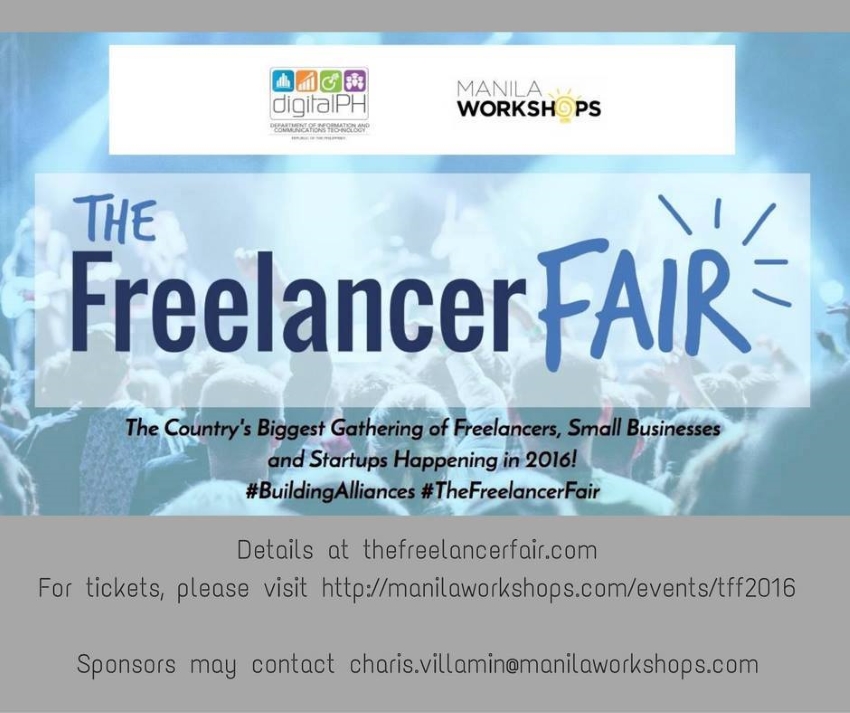 ATTENTION FREELANCERS! The Freelancer Fair is your chance to learn and connect with some of the best names in your industry! Image grabbed from The Freelancer Fair 2016 event page
The Freelancer Fair 2016 is the country's largest gathering of freelancers, small businesses, and start-ups. Experts from different industries gather and share their experiences and knowledge to freelancers to help them become experts in their own right!
There's something for you at The Freelancer Fair, whether you're an aspiring or experienced freelancer, a brand that offers services to freelance professionals, or a company looking to hire freelancers!
There will be short talks about several topics including the basics of freelancing, pricing, and getting international client during the one-day event. There will also be three Premium Talks about marketing, content creation, and design done in cooperation with OnlineJobsUniversity.com.
The Freelancer Fair 2016 will happen on November 19, 9:00 am at The Tent, Acacia Estates, Taguig City. Tickets for the Expo Area are at P500 while the Premium Talks are at P1,500 per 2-hour session or P3,000 for all three. Get your tickets at www.thefreelancerfair.com.
Details:
What: The Freelancer Fair 2016
When: November 19, 2016; 9:00 am onwards (registration starts at 8:00 am)
Where: The Tent, Acacia Estates, Taguig City
Tickets: Purchase at http://www.thefreelancerfair.com/; P500 for Expo Area, P1,500 for 1 Premium Talk or P3,000 for all three Premium Talks
Source: The Freelancer Fair event page, www.thefreelancerfair.com