The Grand Holiday Bazaar Series: Your one-stop for all your Christmas shopping needs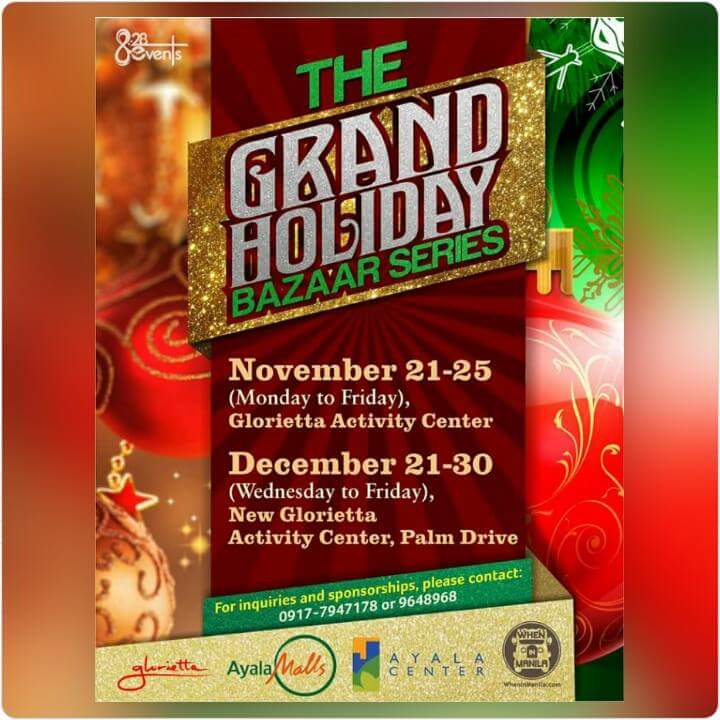 The most wonderful time of the year is just around the corner. If you're already hearing bells ringing, does it also mean it's time for some Christmas shopping?
The Grand Holiday Bazaar series answered yes! This year's most enterprising and much-anticipated holiday bazaar is ready to bring you all things Christmas-y this November 21-25 (Monday – Friday) at the Glorietta Activity Center and December 21- 30 (Wednesday to Friday) at the New Glorietta Activity Center, Palm Drive.
Schedule:
Monday, November 21, 2016 to Friday, November 25, 2016 Glorietta Activity Center
Wednesday, December 21, 2016 to Friday, December 30, 2016 New Glorietta Activity Center, Palm Drive
For media relations, publicity, product promotions, sponsorship opportunities, and booking info, you may contact 0917-7947178 or email 828events@outlook.com.
Details:
What: The Grand Holiday Bazaar Series
When and Where:
November 21 – November 25, 2016 (Monday – Friday) Glorietta Activity Center
December 21 – December 30, 2016 (Wednesday – Friday) New Glorietta Activity Center, Palm Drive
Source: wheninmanila.com, bazaarwhisperer.blogspot.com

Image grabbed from this website bazaarwhisperer.blogspot.com