Get fit and dance to the beat at Music Run Manila 2016!
Music and running have gone hand in hand for ages. Fitness gurus and casual runners have always sworn by their favorite tracks to push them that extra mile. Music Run Manila 2016, happening on Saturday, December 3 at McKinley West, gives you a chance to experience this with your friends, all while listening to the latest and greatest hits!
EXPERIENCE THE BIGGEST MUSIC Festival and 5K run at this year's Music Run Manila!
Music Run is the ultimate 5K running and music festival. It empowers runners to control the soundtrack they'll listen to as they run by voting for their favorite songs before the event via a Music Voting App via Spotify.
On event day, runners get to experience the world's loudest 5K course: The Sound Track. Over 120 speakers pump out the most popular songs as voted on by the runners across 5 interactive and music-themed zones – rock, pop, old school, hip hop, and dance.
The run ends with an after-run music festival featuring world class DJs, live bands, dancers, laser lights, LED screens, chill out zones, giveaways, and many more.
Music Run Manila 2016 will go down on Saturday, December 3 at McKinley West, Taguig City. Gates open at 2:30 pm, with the first wave starting at 4:00 pm. The music festival starts at 4:45 pm and goes on until 8:00 pm.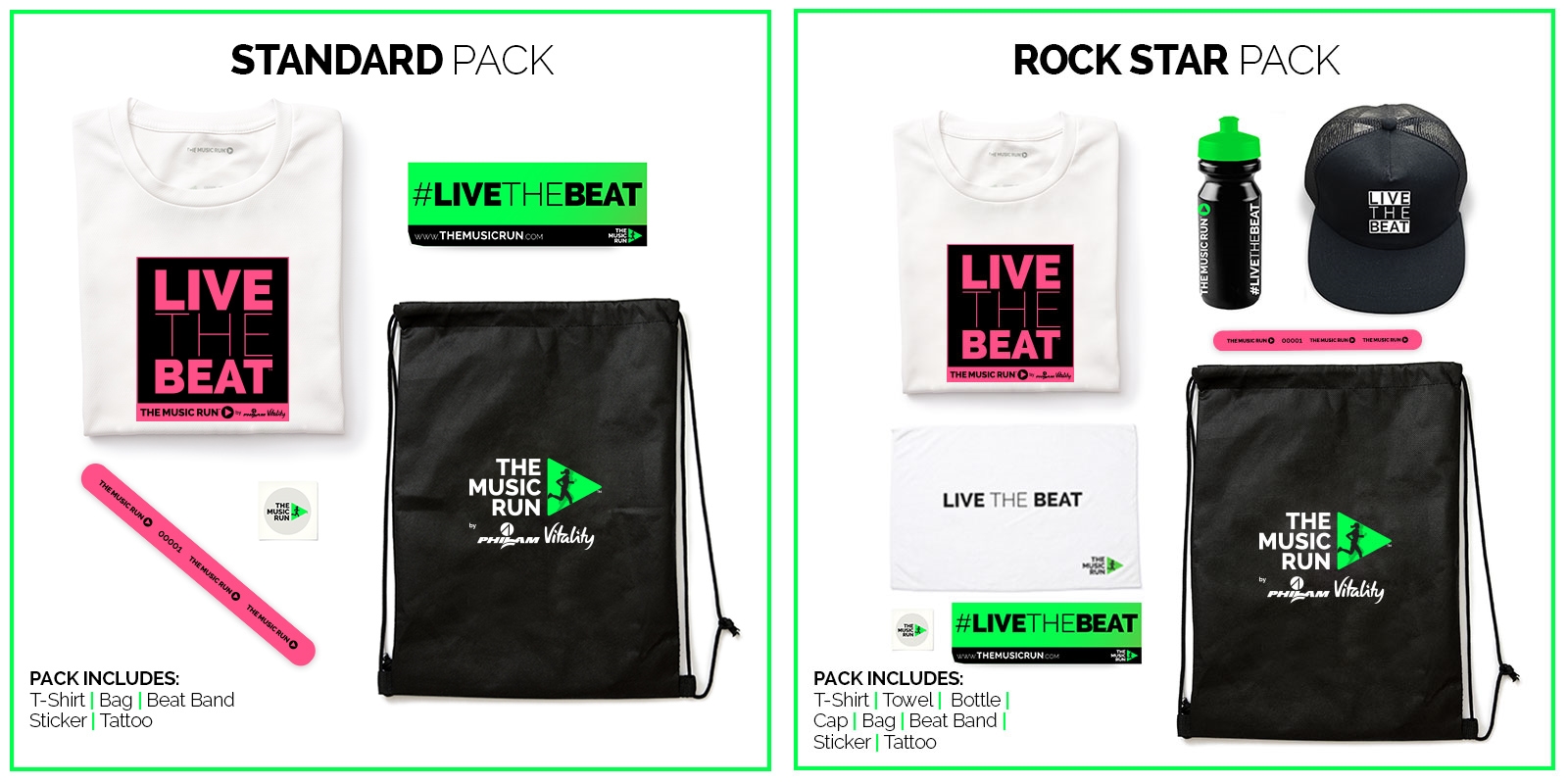 GET THESE FREEBIES BEFORE YOU RUN. Standard Pack (left, starts at P750) and Rock Star Pack (right, starts at P1,200). Images grabbed from themusicrun.com
Event packs can be purchased via TicketWorld starting at P750 for the Standard Pack and P1,200 for Rock Star Pack. Packs will be distributed at Glorietta 5 in Makati from November 26 – 28, 10:00 am – 10:00 pm. For more information, visit www.themusicrun.com.
Details:
What: Music Run Manila 2016
When: Saturday, December 3; 2:30 pm
Where: McKinley West, Taguig City
Ticket information:
Early (September 19 – October 9): Standard – P750, Rock Star – P1,200
Regular (October 10 – 31): Standard – P850, Rock Star – P1,400
Late (November 1 – 20): Standard – P950, Rock Star – P1,600
Last Call (November 21 – 25): Standard – P1,050, Rock Star – P1,800