Create, innovate or die: adobo Festival of Ideas 2016
The world is constantly changing, especially in the world of business. Professions and industries can be wiped out with a new business model or discovery of new technology. These days, you either innovate and get creative, or die trying.
Good thing there's adobo Festival of Ideas, happening on November 30 at the Newport Performing Arts Theatre.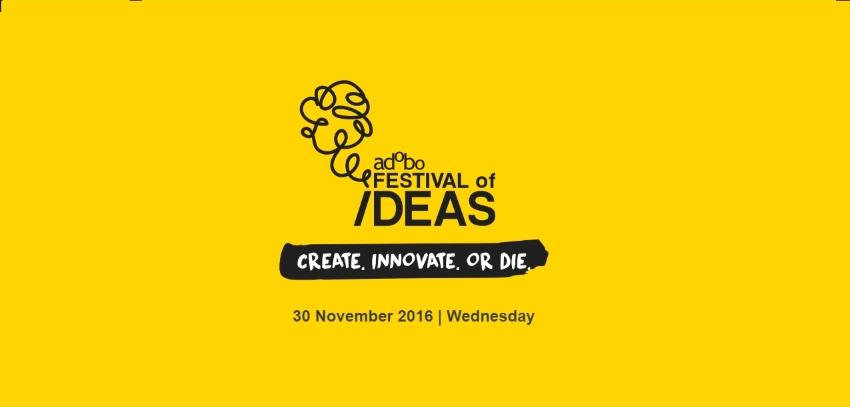 CREATE. INNOVATE. OR DIE. Wise words to live by and learn with at this year's adobo Festival of Ideas. Screen grab from adobofestivalofideas.com
The adobo Festival of Ideas is a full-day creative festival that centers around the theme "Create. Innovate. Or Die." It highlights how today's incoming creative industry professionals can adapt and succeed in today's world of constant disruption.
Learn from the likes of:
John Merrifield, Chief Creative Officer (CCO), Google Asia Pacific (APAC)

Fergus O'Hare, Head of APAC, Facebook Creative Shop

Marcus Rebeschini, CCO, Y&R Asia

Wain Choi, Senior Vice President and CCO, Cheil Worldwide, Inc.

Arthur Policarpio, Head of Mobext Asia Pacific

Carlo Ople, Chief Digital Officer at Dentsu JaymeSyfu and co-founder of Unbox.ph

Melvin Manganda, Chief Creative Head, TWBA\Santiago Manganda Puno
… and many more.
The adobo Festival of Ideas 2016 will take place on November 30 at the Newport Performing Arts Theater, L2, Newport Mall, Newport Blvd., Pasay City. Event starts at 8:00 am.
Tickets are on sale at the Adobo Magazine office located at Unit 203, Bldg 1, OPVI Center, 2295 Pasong Tamo Ext., Makati City and online via TicketWorld. Tickets are at P3,800 for professionals and P1,500 for students, exclusive of 12% VAT.
For information on group rates and other special promos, please call Joche Guerrero at 02-845-0218 or 02-886-5351. You can also email events@adobomagazine.com.

Details:
What: Adobo Festival of Ideas 2016
When: November 30, 2016; 8:00 am
Where: Newport Performing Arts Theater, L2, Newport Mall, Newport Blvd., Pasay City
Tickets: P3,800 for professionals; P1,500 for students; exclusive of 12% VAT
Where to buy: https://www.ticketworld.com.ph/Online/AdoboFestivalofIdeas2016, Adobo Magazine office
Source: Adobo Festival of Ideas Facebook event page, adobofestivalofideas.com