More than just raw fish: The Art of Sushi Making
For generations, people have looked at sushi as nothing more than rolled-up rice that's either topped with a delicious slice of fish or rolled into a nori wrapper. It's an art form for some people, but not in the way that most people know art.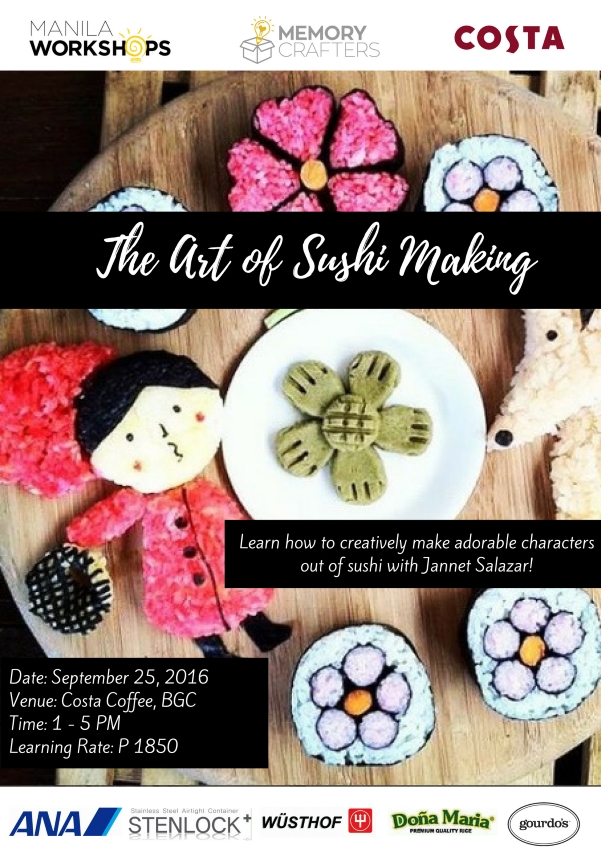 ART WITH SUSHI RICE? Yes, it's possible! Get your tickets for The Art of Sushi Making now! Image grabbed from manilaworkshops.com
The Art of Sushi Making gives you a chance to explore just how far you can take sushi rice, and it's happening this Sunday, September 25 at Costa Coffee in BGC!
Bento and sushi making is not exactly new in the Philippines, but it's slowly making its mark with Filipinos. The Art of Sushi Making will give you a new way of looking at sushi rice, apart from the traditional Maki.
LEARN HOW TO MAKE CUTE AND ADORABLE SUSHI ART! Jannet Salazar takes you through the steps of simple Maki Making and sushi rice art. (Photos grabbed from The Art of Making Sushi Facebook event page)
Co-presented by Manila Workshops and Memory Crafters, The Art of Sushi Making gives you a chance to learn from Art Maki Sushi instructor Jannet Salazar the ways of making a Maki as well as what you can do with sushi rice.
The Art of Sushi Making happens this Sunday, September 25 from 1:00 pm – 5:00 pm at Costa Coffee, One World Place, 32nd St., Bonifacio Global City, Taguig. Tickets are at P1,850, which includes the workshop kit, modules, certificate, food and drinks, and freebies from their sponsors.
For tickets, please visit manilaworkshops.com/events/the-art-of-sushi-making or call 0926-616-7720.
Details:
What: The Art of Sushi Making
When: September 25, 2016; 1:00 pm – 5:00 pm
Where: Costa Coffee, One World Place, 32nd St., Bonifacio Global City, Taguig
Ticket price: P1,850
Registration: manilaworkshops.com/events/the-art-of-sushi-making or call 0926-616-7720