Extend your boundaries: Anvil Business Summit 2016
Have you ever wondered how some of the world's best businesses flourished, even through the toughest of times? Get your chance at this year's Anvil Business Summit 2016, happening on September 9 at the Marriott Hotel Manila.
In celebration of their 25th anniversary in January 2017, the Anvil Business Club, Inc. gives up-and-coming entrepreneurs and businessmen a chance to listen to some of the country's top entrepreneurs with their annual Anvil Business Summit.
Revolving this year around the theme "Giants Level Up: Extending Your Boundaries", the Anvil Business Summit will have four of the country's top entrepreneurs and business leaders on hand to talk about several topics.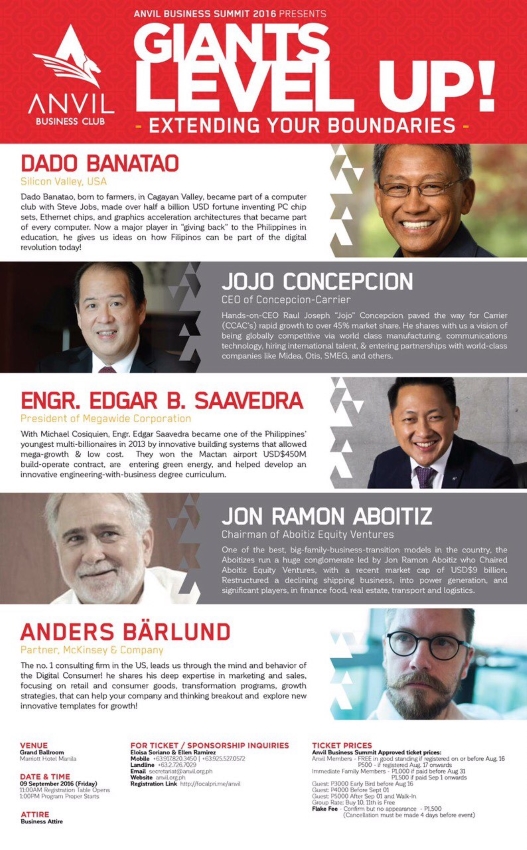 First on the list is Diosdado "Dado" Banatao. A Managing Partner at Tallwood Venture Capital and an electrical engineer by profession, he is famous for pioneering the PC chip set and graphics acceleration architecture found in every single computer we have today. He will talk about how Filipinos can become a part of today's digital revolution.
Concepcion-Carrier CEO Raul Joseph "Jojo" Concepcion, who's grown into his position at Conception-Carrier Air Conditioning, will share his vision of how we can be globally competitive via world-class manufacturing, communications technology, tapping international talent, and entering partnerships with other world-class companies.
Engr. Edgar Saavedra, President and CEO of Megawide Construction Corporation and one of the country's youngest multi-billionaires, will give a talk on the innovative engineering-with-business degree curriculum. He's the one who landed the US$450-million build-operate contract through innovative building systems that allowed large-scale growth at low costs.
Also on hand for the event are Jon Ramon Aboitiz, Chairman of Aboitiz Equity Ventures, and Anders Bärlund, a partner at McKinsey & Company. Aboitiz will talk about how he has restructured their declining shipping business into becoming a major player in the power generation, finance, food, real estate, transport, and logistics business.
Bärlund will talk about how to understand the Digital Consumer. With his expertise on marketing and sales, transformation programs, and growth strategies, his talk might just be the ticket for your company to break out of its shell and explore new and innovative templates for growth.
The Anvil Business Summit 2016: Giants Level Up – Extending Your Boundaries will happen this Friday, September 9, 2016 from 1:00 pm – 5:00 pm at the Grand Ballroom, Marriott Hotel Manila, 2 Resorts Drive, Pasay City. Tickets are at P5,000. For tickets inquiries, please call Eloisa Mariano and Ellen Ramirez at 0917-820-3450, 0925-527-0572, or 02-726-7029.
You can also contact the Anvil Business Club via their email (secretariat@anvil.org.ph), or through their website, www.anvil.org.ph.
Details:
Anvil Business Summit 2016: Giants Level Up – Extending Your Boundaries
Friday, September 9, 2016; 1:00 pm – 5:00 pm
Grand Ballroom, Marriott Hotel Manila, 2 Resorts Drive, Pasay City
Tickets are at P5,000
Ticket inquiries: Call Eloisa Mariano and Ellen Ramirez at 0917-820-3450, 0925-527-0572, or 02-726-7029; email Anvil Business club at secretariat@anvil.org.ph