A blending of traditions: Lem-Lunay Festival
The T'Boli have had a long-standing belief about Lem-lunay: a paradise that the T'Boli would like to rebuild for themselves. This belief has led to them holding a thanksgiving festival every year that is unique to the tribes within the province of South Cotabato: the Lem-Lunay Festival, held every third week of September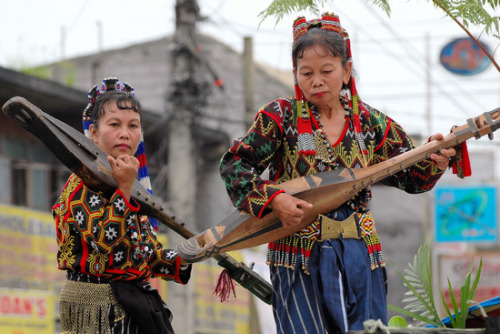 THE LEM-LUNAY FESTIVAL. Two members of the T'Boli tribe play the kudyapi or two-stringed lute, a traditional Filipino instrument during the festival. (Image grabbed from Pinoy Culture on tumblr)
Also known as the T'Boli Tribal Festival, the Lem-Lunay is more than just a festival for the T'Boli Tribe. It's a thanksgiving festival that originally brought together 6 major tribes in South Cotabato: the T'Boli, the Ubo, the Manobo, the Kalangan, the Maguindanao, and the Tasaday to celebrate their heritage.
It was originally done to celebrate the feast of Sta. Cruz in Lake Sebu, but has since evolved to a full-scale cultural festival.
In recent years, the festival has grown to include tribal representatives from nearby provinces as well as becoming more and more T'Boli. Festival highlights include a commemorative mass held during the last day of the Festival. It's a unique mixture of Catholic and tribal rites that will amaze and astound anyone who sees it.
Horse fights, tribal dances, and games all add to the spectacle that is the Lem-Lunay Festival.
No official schedule has been released as of today, but the festival should take place during the third week of September.
Details:
What: Lem-Lunay Festival
When: Every third week of September
Where: Lake Sebu, South Cotabato
Source: Lemlunay Resort, www.flyphilippines.co.uk, www.seasite.niu.edu, South Cotabato Provincial Government