CCP to launch Ani 39 literary journal
Ninety-one writers who authored a total of 182 literary works are featured in the 39th issue of the official literary journal of the Cultural Center of the Philippines (CCP). Ani 39, themed "Kahayupan/The Animal Kingdom" covers works between 2015 and 2016 and will be launched on September 23, 2016 at the CCP Silangan Hall at 5:00 pm as part of the celebration of CCP's 47th anniversary which will start in September.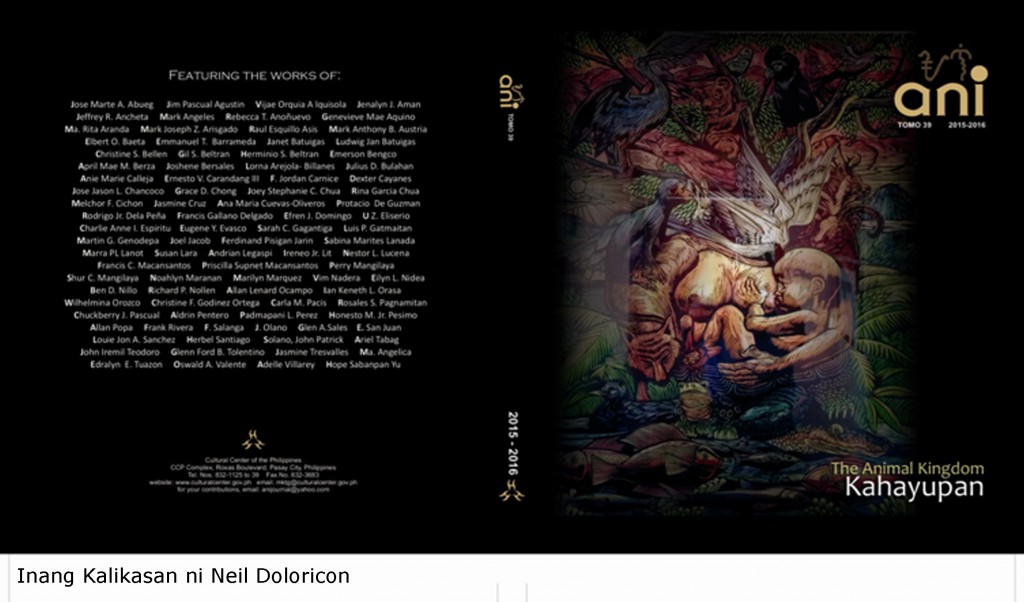 CCP's ANI 39 FEATURES different works from some of the country's best writers. Image from CCP.
Ani 39 is produced by CCP's Intertextual Division, formerly known as Literary Arts Division. The Children's Literature section, titled "Mga Akdang Pambata", was expanded, in line with CCP's thrust this year of making the cultural institution more open to families. Dr. Luis P. Gatmaitan, guest section editor of ANI 39, was able to gather works by the best writers for children.
Intertextual Division head and Ani 39 editor-in-chief Herminio S. Beltran, Jr. explained that in this issue, "some writers use animals in Philippine mythology or folk forms to comment on contemporary life." He also noted that other works "drew parallels between human relationships and relating with animals, particularly pets… which shed light on the human condition."
Other works also explored the idea of looking at how humans treat so-called non-humans while others test the limits of human language and understanding to interpret reality from the point of view of animals.
The literary works are written in Filipino, Ilokano, Akeanon, Bikol, Bikol-Naga, Chavacano, Kinaray-a, and English. During the launch, ANI 39 will be sold at a discounted rate.
The Intertextual Division led by Herminio Beltran, Jr. is comprised of Beverly Siy, senior culture and arts officer; Jasmin Tresvalles, culture and arts officer; and Nestor Lucena, clerk.
For updates on Ani 39: Kahayupan/The Animal Kingdom, like us on Facebook: CCP Intertextual Division Programs; follow us on Twitter (@ccpintertextual) and on tumblr: CCP Intertextual Division. You can also send an email to anijournal@yahoo.com and ccpintertextualdivision@gmail.com.
Details:
What: Ani 39: Kahayupan/The Animal Kingdom launch
When: September 23, 2016; 5:00 pm
Where: CCP Silangan Hall, CCP Main Building, CCP Complex, Roxas Blvd., Pasay City, Philippines
Contact: anijournal@yahoo.com or ccpintertextualdivision@gmail.com
Website: http://ccpintertextualdivision.tumblr.com/
Facebook: https://www.facebook.com/CCP-Intertextual-Division-320264584797917/?hc_ref=SEARCH&fref=nf
Twitter: @ccpintertextual
Source: CCP press release