Have a frightfully good time at AWCP's Halloween Charity Ball!
Got plans for Halloween? If not, then you should clear your night on October 15, as the American Women's Club of the Philippines (AWCP) presents its first-ever Halloween Charity Ball in Pasay City!
SAVE THE DATE! If you don't have plans for Halloween, then this is the event for you!
The AWCP Charity Ball is an annual event where people from all over the metro can have a good time! This year, they've decided to move away from their traditional hoedown-themed party and have gone for something that's a bit more in line with the season.
Come as a monster, ghoul, ghost, or in a fancy dress and party all night long! The event starts at 7:00 pm with free-flowing alcohol for all guests. Get a chance to score fantastic prizes in their raffle! There's also a silent auction where you can get your hands not just on furniture and artwork, but hotel stays, and even plane tickets to any point in the USA!All proceeds of the ball will be donated to the Welcome Home Foundation, Inc., a non-profit, non-government organization that serves deaf Filipinos. They specialize in education about Filipino Sign Language, help the deaf become skilled workers and students, and build a community that the Filipino deaf can call their own.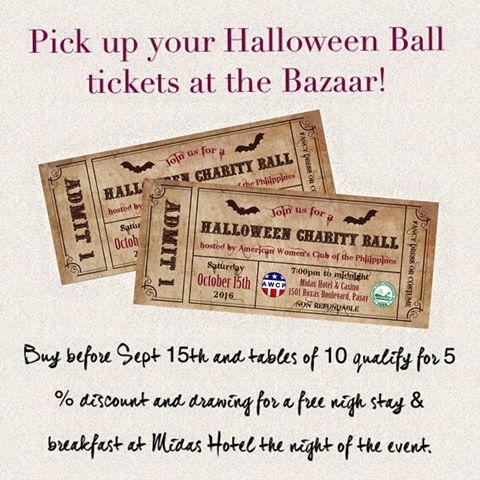 GOOD UNTIL SEPTEMBER 15! Book a table for the Halloween Charity Ball on or before Sept. 15 and get a 5% discount plus a chance to get a free night stay with breakfast at the Midas Hotel the night of the event! (Image grabbed from AWCP Facebook page)
Interested? Then hurry and book your seats on or before AWCP's Halloween Charity Ball, which will happen on October 15, 2016 at the Midas Hotel and Casino, 1501 Roxas Blvd., Pasay City.
For information on tickets and/or sponsorship packages, please email awcphilippines@gmail.com or call 02-817-7587.
Details:
What: Halloween Charity Ball
When: October 15, 2016, 7:00 pm – 12:00 am
Where: Midas Hotel and Casino, 1501 Roxas Blvd., Pasay City

Original published: August 14, 2016