Time to Run Against Cancer
It's that time of the year to aid, celebrate, and remember cancer patients with My Brave Little Warrior Inc.'s Run Against Cancer, happening this August 28 at the University of the Philippines (UP) Academic Oval.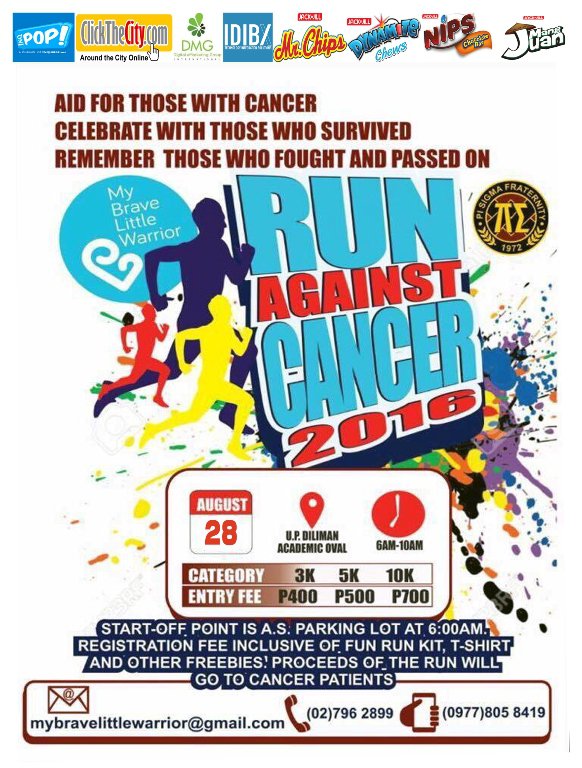 IT'S TIME. Let's all join the Run Against Cancer, organized by My Brave Little Warriors Inc. (Image grabbed from Pi Sigma Fraternity – UP Diliman Facebook page)
Run Against Cancer is a fun run/walk organized by My Brave Little Warrior Inc. to raise awareness about cancer and raise funds for those who do not have enough to support their cancer-stricken loved ones.
My Brave Little Warrior Inc. is a non-stock, non-profit organization that aims to assist young patients suffering from leukemia and other kinds of cancer.
It all started with the case of a five-year-old boy diagnosed with Acute Lymphoblastic Leukemia (ALL). The boy underwent intensive treatment for a year and had chemotherapy for the next four, taking its toll not just on him but his family.
My Brave Little Warrior Inc. is that family's way of paying forward and doing their part in helping those with cancer and their families cope with the disease.
Run Against Cancer will take place this Sunday, August 31 from 6:00 am – 10:00 am at the UP Academic Oval, UP Diliman, Diliman, Quezon City. To register, please send an email to mybravelittlewarrior@gmail.com or call 02-796-2899 or 0977-805-8419. Entry fees are at P400 for the 3-kilometer run, P500 for the 5-kilometer run, and P700 for the 10-kilometer run.
Details:
What: Run Against Cancer 2016
When: August 31, 2016; 6:00 am – 10:00 am
Where: UP Academic Oval, University of the Philippines, Diliman, Quezon City
Registration: mybravelittlewarrior@gmail.com or call 02-796-2899 or 0977-805-8419
Categories and fees: 3K (P400), 5K (P500), 10K (P700)
Source: Inq POP!, Pi Sigma Fraternity – UP Diliman Facebook page