PARP 2016: 'About Face,' a solo exhibition by French resident artist Vincent Ruffin
1335MABINI, in partnership with Alliance Française de Manille (AFM), the Embassy of France to the Philippines and Centre Intermondes, is pleased to present About Face, a solo exhibition by its resident artist Vincent Ruffin from August 27 to September 23.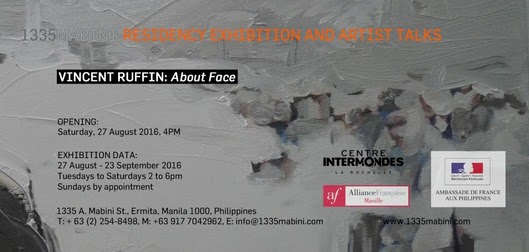 The exhibition will open with an artist talk and a presentation by AFM Cultural Coordinator Noe Fuentes about the Philippine Artist Residency Program (PARP). Visual artist Poklong Anading will also be sharing his experience as the inaugural recipient of the PARP grant in 2014.
Vincent Ruffin is a French painter based in La Rochelle, France. He has received training both at the School of Fine Arts in Cambrai and The City and Guilds of London Art School. Through a process that often involves the expressive augmentation or amalgamation of found photographs, he creates visual narratives that communicate variances in social life. For his solo exhibition at 1335MABINI, he presents new paintings produced during his month-long residency.
The talks will begin promptly at 4:00 pm on Saturday, August 27 at 1335MABINI. Those interested in learning more about the AFM-PARP and how to apply are encouraged to come.
This event is free admission.
For more information, please visit www.1335mabini.com or call 02-254-8498 (1335 Mabini) / 02-895-7585 (AFM).
Details:
What: PARP 2016: About Face, a solo exhibition by French resident artist Vincent Ruffin
When: 27 August to 23 September 2016
Where: 1335 Mabini Gallery, Casa Tesoro 1335 A. Mabini Street, Ermita, Manila