3rd Asian On Screen Film Festival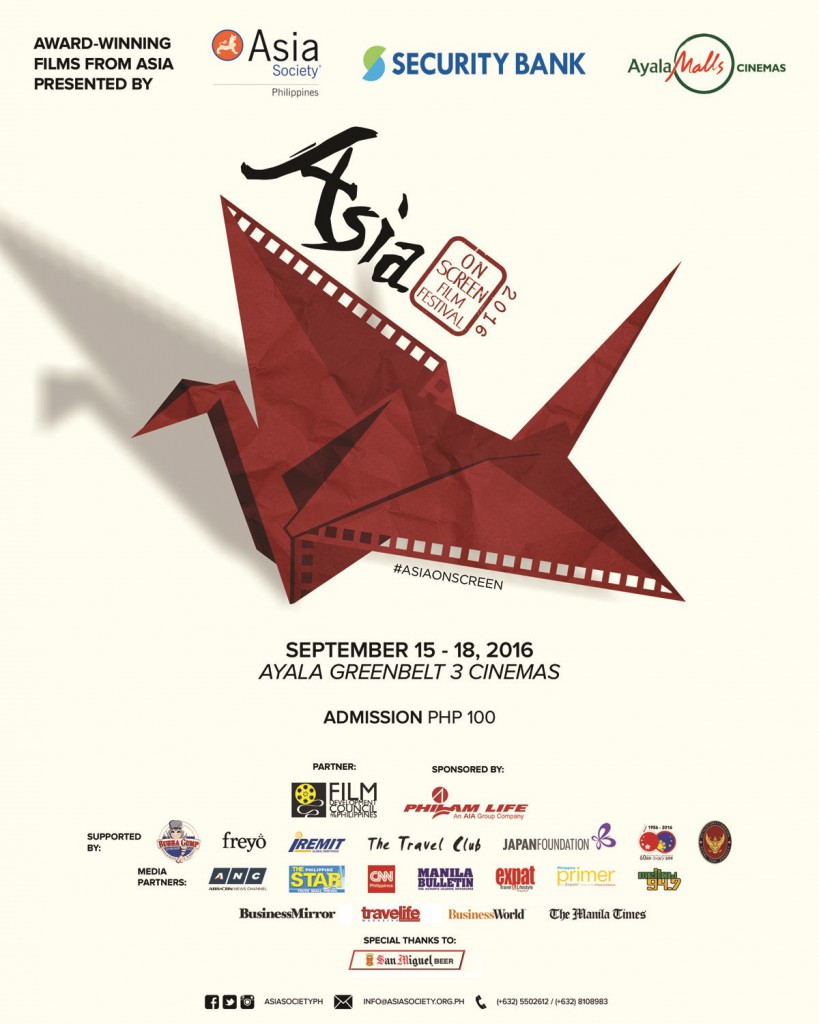 The Asia Society Philippines and Security Bank, together with Ayala Malls Cinemas and the Film Development Council of the Philippines, invites you to the 3rd Asia on Screen Film Festival this September 15 to 18, 2016 at the Greenbelt 3 Cinemas in Makati City!
This film fest will showcase award-winning and culturally-relevant films of the Asia Pacific cinema to draw recognition from a generation of talented actors and filmmakers. See films such as Tanna (Australia), A Tale of Three Cities (China), Teacher's Diary (Thailand), Miss Hokusai (Japan), and Philippines' very own films namely Taklub and Above the Clouds.
Get the opportunity to learn from directors Pepe Diokno of Above the Clouds and Nithiwat Tharatorn of Teacher's Diary during a Director's Dialogue on September 15, 10:00 am to 12:00 nn for a discussion about Southeast Asian films and the directors' journey towards filmmaking to be held at the Asian Institute of Management for free of charge.
Hurry and get your tickets on-site for only P100 per screening at Greenbelt 3 Cinemas. See stories of forbidden love, to coming of age teenage dramas, to incredible stories of survival and epic historical tales and learn the best of Asian Cinema through Asia Onscreen Film Festival!
Details:
What: 3rd Asia on Screen Film Festival
When: September 15 to 18, 2016
Where: Greenbelt 3 Cinemas