Rocking Silence: 10th International Silent Film Festival
The 1920s will forever hold a special place in film history as the era that started it all. Films produced during this era did not have any of the effects modern movies have, including sound.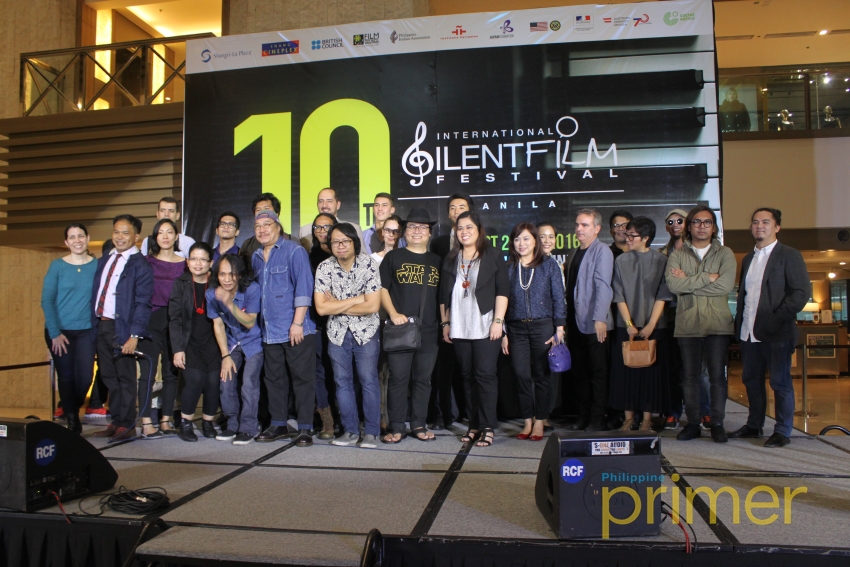 ROCKING SILENCE TOGETHER. Representatives from the participating countries in the 10th International Silent Film Festival with musicians who will provide the musical score for each film.
Film festivals that honor silent films are also few and far between; this makes the 10th International Silent Film Festival (ISFF), happening at the Shang Cineplex from August 25 – 28, all the more special, especially for those who would like to look back at the beginnings of film.
PRIMED AND READY. Country representatives sharing what you can expect from their featured films.
Southeast Asia's first silent film festival is coming back strong for its 10th year with 10 films from 9 countries: Austria, France, Germany, Italy, Japan, Philippines, Spain, the United Kingdom, and the United States. What started in 2007 as a project led by Instituto Cervantes and the Japan Foundation has now grown to include the works coming from different countries, all with one goal: to rock your world with silence.
The International Film Festival is unique among other silent film festivals in the world as it is the only one to have live scoring done by bands and artists. This year, they're bringing in more films than ever along with a lineup of musicians you won't soon forget.
The Films
10 films will be shown at the ISFF, scored by a who's who of the local music scene:
Play On! Silent Shakespeare (August 25, 7:30 p.m.)
Play On! Silent Shakespeare is a collection of silent Shakespeare short films shown between 1899 and 1922. These are some of the earliest film adaptations of Shakespeare courtesy of the British Film Institute, including the world's earliest surviving adaptation, King John (1899). Play On! will be scored by the Tago Jazz Collective, a group of jazz musicians who have all performed at the Tago Jazz Club in Cubao, the only club of its kind in the Philippines.
Indio Nacional (August 26, 5:30 p.m.)
Indio Nacional (2005) can be considered as the baby of the group. One of the earliest works by acclaimed Filipino indie film director Raya Martin, it tells the tale of a child church bell-ringer who's torn between his duties to the Spanish colonial rulers and a Filipino. Indio Nacional will be scored by Oh, Flamingo!, an indie rock group with a sound all their own, born from the ranks of the UP Music Circle.
Maciste in Hell (August 26, 8 p.m.)
Maciste in Hell (1925) is the 24th installment of Italy's highly successful "Maciste" series. Maciste can be described as "Italy's first superhero". It's also closely related to Inferno, a novel by Dante Alighieri that has been adapted into film multiple times. Scoring will be done by none other than Ely Buendia, former vocalist of the popular Filipino rock band Eraserheads. The film will be introduced by none other than film producer and author, Director of the Center for New Cinema, and UP Film Institute Professor Nick Deocampo.
La Revoltosa (August 27, 3 p.m.)
La Revoltosa (1924) is the first film adaptation of the popular zarzuela composed by Spanish musician Ruperto Chapí. A tale of lovers who have basically flirted with almost everyone in town, it was shown both in Spain and the Philippines during the same decade. This film will be accompanied by its original score arranged by Dingdong Fiel, along with the voices of Spanish tenor Miguel Ángel Lobato and Filipina soprano Janine Santos.
Muteki (The Foghorn, August 27, 5:30 p.m.)
Japan, one of the founders of the ISFF, gives you a taste of a late 19th century love triangle with Muteki (The Foghorn, 1934). It will be introduced by Japanese film expert and curator of the Tokyo's National Film Center Hidenori Okada, who will also appear at the Silent Film Festival Expert Talk Session with Nick Deocampo on August 27. The musical score will be done by the Makiling Ensemble, who also gave the musical score to Japan's entry during the first iteration of the ISFF.
For Heaven's Sake (August 27, 8 p.m.)
A classic tale of an uptown boy falling head-over-heels in love for a downtown girl, For Heaven's Sake (1926) stars silent film legend Harold Lloyd, made famous by his starring roles in silent comedy films. This film will be scored by the diverse Brass Pas Pas Pas Pas, who play an eclectic mix of varying music genres ranging from jazz to modern/contemporary groove music.
Le Pied De Mouton (Leg of Lamb) and Le Petit Poucet (August 28, 3 p.m.)
Japan and the US may have a leg up as far as this era's animated films are concerned, but it was something that was being done in France as early as the 1900s. Le Pied De Mouton (1907) and Le Petit Poucet (1922) are a pair of 17-minute shorts and two of France's earliest silent films that dabbled in animation.
Le Pied talks about a romance without blessing while Le Petit tells the story of a family faced with a tough decision: find a way to feed their seven children, or leave them alone in the woods. Musical score for these films will be arranged by renowned Filipino musical director, arranger, composer, and conductor Felipe "Jun" Latonio, Jr.
Der Balleterzherzog (August 28, 5:30 p.m.)
Der Balleterzherzog (1927) tells the tale of a love triangle set in the luxurious indoor scenery of Austrian Palaces and the Vienna Opera house that involves Archduke Mr. Sixtus, his adjutant Count Paul Paladin, and a young ballerina named Ms. Elisa Jenkins. Multi-award winning vocalist Basti Artadi of Wolfgang will be lending his rock music to score this look into the lives of the Austrian elite.
Der Letze Mann (The Last Laugh, August 28, 8 p.m.)
The Last Laugh (1924) is the first film of its kind to explore moving cameras, a then-huge departure from the fixed camera used to shoot silent films. It tells the tale of a Grand Hotel Atlantic porter who went from being the man in his neighborhood to something just short of the town's laughing stock. Music for this film will be done by festival first-timers and popular Filipino rock band Up Dharma Down.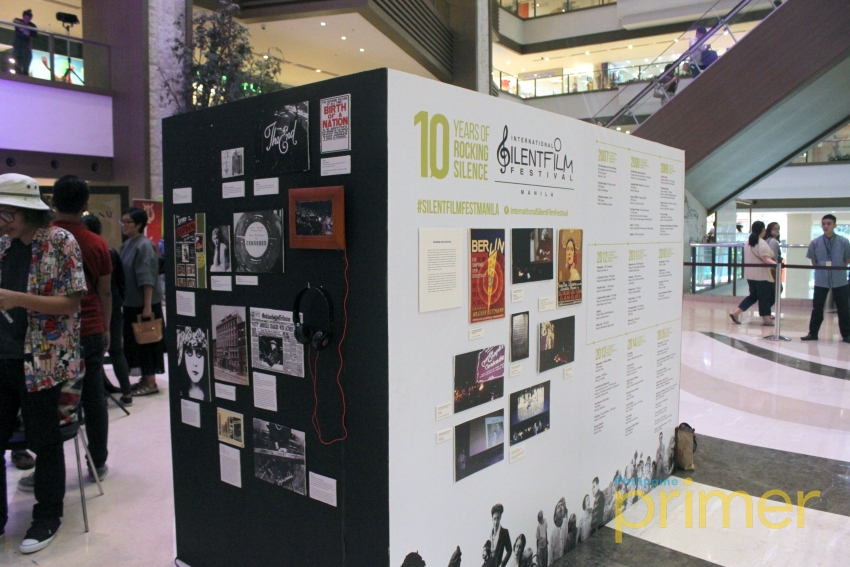 INTERACTIVE. No need to keep your hands in your pockets for this exhibit.
The International Silent Film Festival will kick off with an exhibit that will run from today until August 28. Curated by Filipina photographer, visual, and graphic artist Nikkorlai Tapan, the interactive gallery will showcase the many films shown from the ISFF's first 9 years.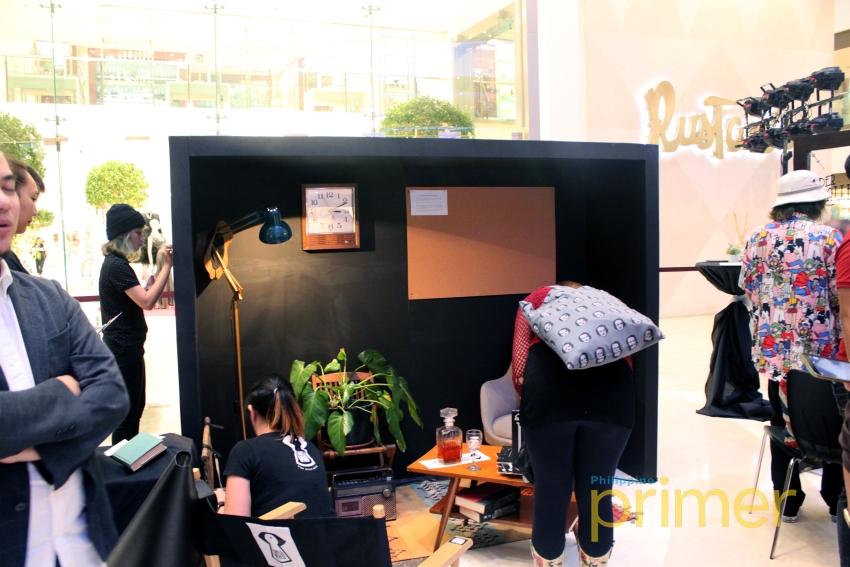 LIVE MOVIE SET. Here's something for all aspiring silent film directors: your own mock-up of a live movie set.
The exhibit will also have a period-accurate live movie set where you can create your very own silent film, a photo wall where you can make your own silent movie poster, live drawings by visual artists Glitch Glitch, and a trivia quiz show with prizes up for grabs that's run by story tellers from Manila Who.
The International Silent Film Festival will be held from August 25 to 28 at Cinema 2, Shang Cineplex, Shangri-La Plaza, EDSA Cor. Shaw Blvd., Mandaluyong City. All screenings are free and open to the public, available on a first-come, first-served basis. Please note that there will be no standing room during the screenings.
For inquiries, you can call 02-370-2500 loc. 597 or visit the Shangri-La Plaza official fan page on Facebook.
Details:
What: 10th International Silent Film Festival
When: August 25 – 28, 2016
Where: Cinema 2, Shang Cineplex, Shangri-La Plaza, EDSA Cor. Shaw Blvd., Mandaluyong City
Admission is free