Pack your sleeping bags for Lights Off at The Mind Museum: Dino Quest!
Are you a fan of dinosaurs? Would you like to know more about these creatures that once roamed the earth? Get your dose of dino knowledge as the Mind Museum presents Lights Off at The Mind Museum: Dino Quest, happening from July 30-31, 2016.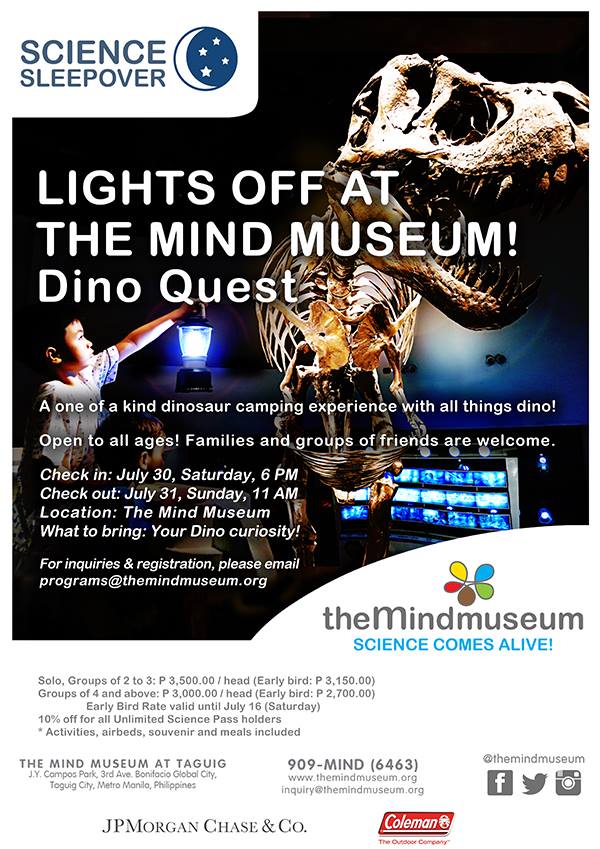 PACK YOUR (SLEEPING) BAGS! Lights Off at the Mind Museum is back and this time, they're "waking up" their dinosaurs! Poster grabbed from The Mind Museum Facebook page.
Dino Quest is a one-of-a-kind sleepover at The Mind Museum where you get to know more about the thunder lizards. It's an exclusive dinosaur camping experience where you not only get to catch their Dino Play travelling exhibit, but also the chance to sleep beneath Stan, their 40-foot Tyrannosaurus Rex skeleton.
YOU GET TO SLEEP BENEATH THIS GUY! He has little arms so no worries, he won't grab you. Photo courtesy of The Mind Museum Facebook page.
Anyone can join the program as long as they have the thirst for knowledge and a different kind of adventure: friends, families… you can even go solo! Take on the role of prehistoric humans and various physical and mental tasks as well as team-building challenges, all in an effort to unearth the secrets of the dinosaurs.
Lights Off at The Mind Museum will happen on July 30, with registration starting at 5 p.m. Tickets are at P3,500 per person for groups of 2-3 people as well as solo participants, and P3,000 for groups of 4 or more people. Get a discount by availing of their Early Bird rate (P3,150/person for solo and groups of 2-3 people, P2,700/person for groups of 4 or more) until July 16!
You can register for Lights Off by clicking here. For more information, please visit www.themindmuseum.org or any of their accounts on Facebook, Twitter, and Instagram.
Source: The Mind Museum, The Mind Museum Facebook page