FREE Admission at Ayala Museum for Inspire Every Day 3.0
People look for inspiration every day. It's a driving force for a lot of people that go through their daily grind. It comes in all shapes and forms… and at times is really, REALLY hard to find. Thank goodness the Ayala Museum has a way to give everyone inspiration with Inspire Every Day 3.0 happening on July 30.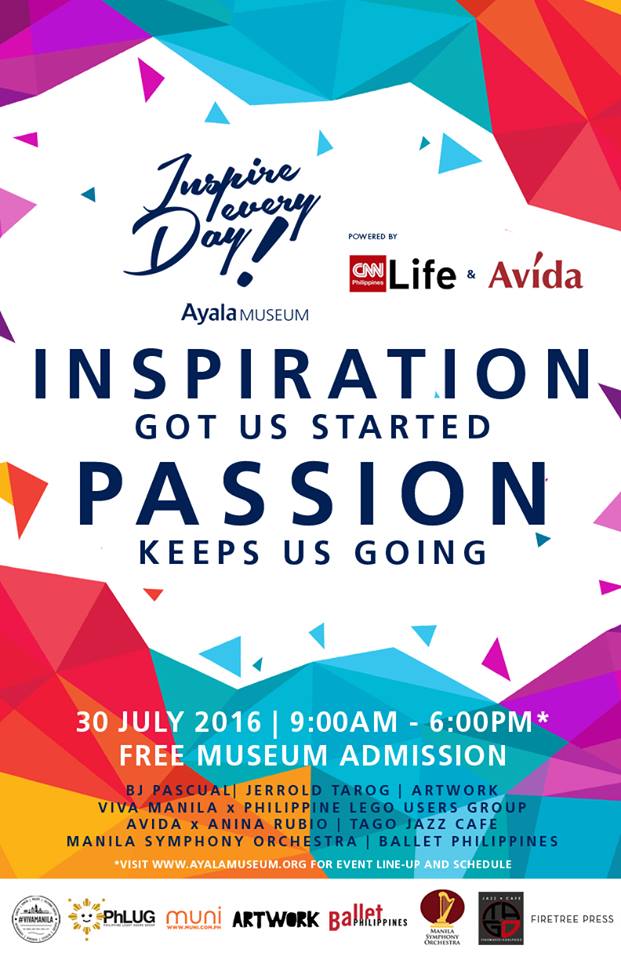 INSPIRE EVERY DAY! Ayala Museum along with Filipinas Heritage Library presents Inspire Every Day 3.0, happening on July 30.
Inspire Every Day is a campaign by Ayala Museum that aims to remind their guests and the public to "discover the power of art and history to inspire you, drive you, (and) motivate you to get through the day."
On July 30, Ayala Museum will be opening its doors to everyone for free. Yes, for FREE. Get to see works done by photographer BJ Pascual, filmmaker Jerrold Tarog, and Artwork. Catch live pocket performances by the Manila Symphony Orchestra and Ballet Philippines, all between 9 a.m. and 6 p.m.
For more information on Inspire Every Day 3.0, visit www.ayalamuseum.org or follow Ayala Museum on Facebook and @ayalamuseum on Twitter for the latest updates.
Details:
What: Inspire Every Day 3.0
When: July 30, 2016, 9:00 am – 6:00 pm
Where: Ayala Museum, Greenbelt Park, Makati Ave. cor. Dela Rosa St., Makati City
Website: http://www.ayalamuseum.org/
Facebook: https://www.facebook.com/theayalamuseum/
Twitter: https://twitter.com/ayalamuseum