UFC returns to Manila this October
It was one of the most anticipated sporting events last year. The Ultimate Fighting Championship (UFC) FIGHT PASS event may not be your usual UFC main event, but it drew crowds thanks to the overwhelming talent on its fight card. This year, UFC is set to make its comeback at the SM Mall of Asia Arena for UFC Fight Pass on October 15.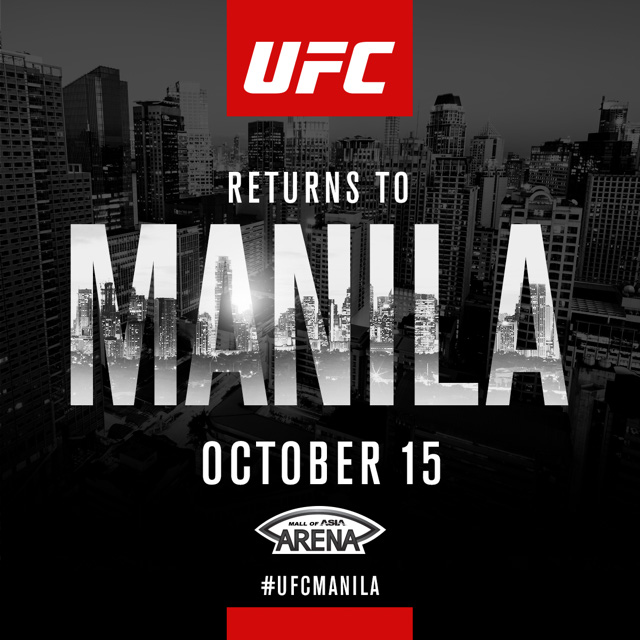 IT WILL SOON BE TIME! The UFC is making a comeback with FIGHT PASS on October 15, 2016 at the SM Mall of Asia Arena. Photo courtesy of UFC.
No bouts have been scheduled for UFC Fight Pass on October 15, but Kenneth Berger, Executive Vice President & General Manager of UFC Asia is excited about the event.
"The consistently warm reception we receive from Filipino fans and last year's sold out event shows us that UFC has an incredibly strong following in the country. Manila is a fighting city and we hope to put on another unforgettable show that will capture the hearts of Filipino sports fans throughout the country," he said.
Last year's UFC Fight Night Manila drew thousands of fight-crazed Filipinos to the SM Mall of Asia Arena. While there were no championship belts at stake, the crowd was nonetheless treated to They all bore witness as Mark "The Filipino Wrecking Machine" Muñoz stepped into the octagon for the last time, announcing his retirement after the fight. He won via unanimous decision against Luke Barnatt.
Source: UFC