The Beatles are Back! (sort of)
The Beatles have returned! Well, not really; but one of the most successful Beatles tribute groups, Bootleg Beatles, will be in the Philippines for their one and possibly only Philippine tour.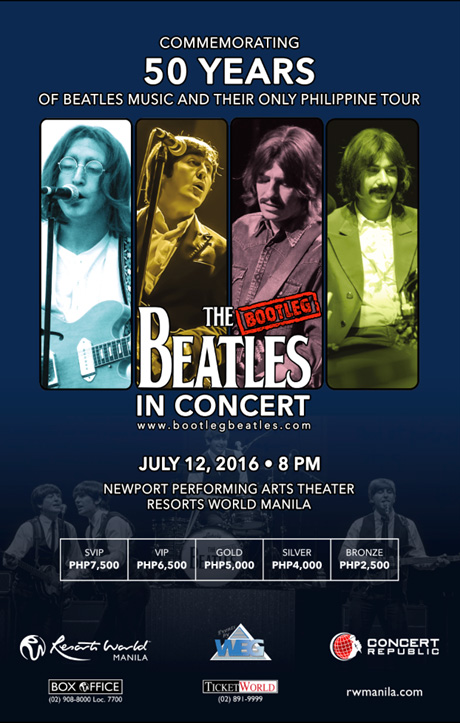 AS GOOD AS THE ORIGINAL? Only you can tell. The Bootleg Beatles, one of the best Beatles tribute bands, will be in Pasay for the first leg of their Philippine tour! Photo courtesy of TicketWorld.
Concert Republic in cooperation with Resorts World Manila presents The Bootleg Beatles in Concert: Commemorating 50 Years of Beatles Music, happening on July 12 at the Newport Performing Arts Theater.
Relive the best hits of the band that catapulted rock music to what it is today. The Beatles may be long gone, but thanks to The Bootleg Beatles, fans of the legendary rock band can enjoy live performances of their greatest hits.
You can catch The Bootleg Beatles in Concert on July 12, 8 p.m. at the Newport Performing Arts Theater, Resorts World Manila, 3/F, Newport Mall, Pasay City; July 15 at the SMX Convention Center in Davao City, and on July 16, 8 p.m. at the Waterfront Hotel in Cebu City. Tickets are on sale for the July 12 and July 16 performances via www.ticketworld.com.ph.
Details:
What: The Bootleg Beatles in Concert: Commemorating 50 Years of Beatles Music
When: July 12, 8:00 pm
Where: Newport Performing Arts Theater, Resorts World Manila, 3/F, Newport Mall, Pasay City
Tickets: http://bit.ly/1UbJTfV
When: July 16, 8:00 pm
Where: Waterfront Hotel, Cebu City
Tickets: http://bit.ly/1PD7A0p
Source: TicketWorld, Aktivshow, www.bootlegbeatles.com