Discover the Philippine's lost architecture at BURIED
Architecture was, at one point, seen as an art form on par with painting, sculpture, and performance. When World War II happened, almost everything went down, including some of our country's treasured architectural masterpieces.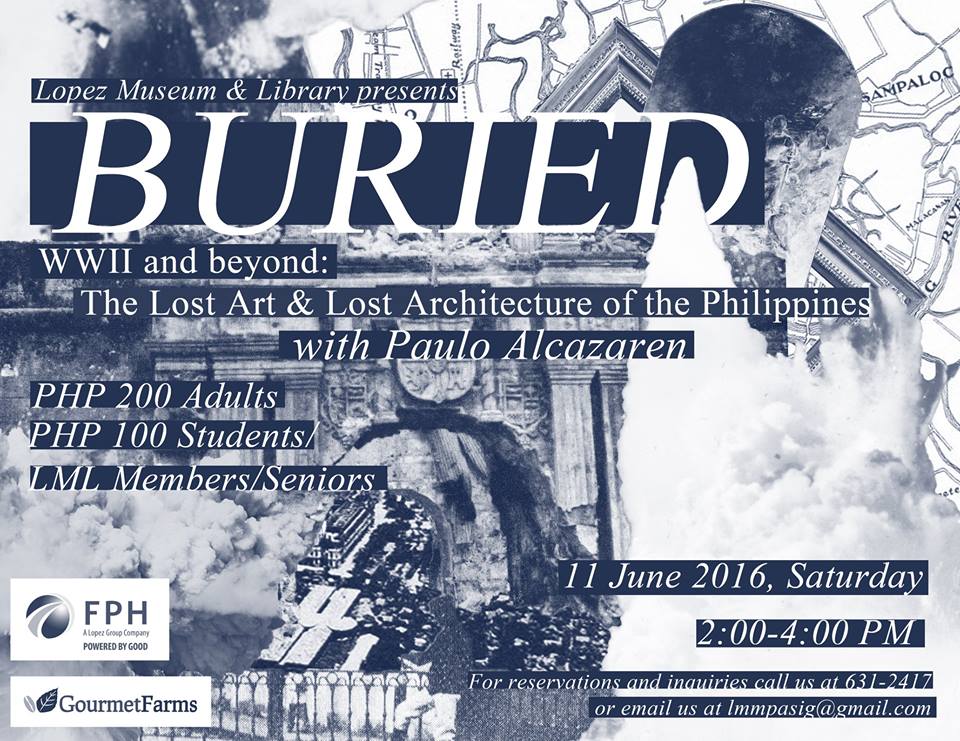 GONE FOREVER? Maybe not.  Discover how beautiful our architecture was at Buried (WWII and beyond): The Lost Art and Architecture of the Philippines. Photo courtesy of Lopez Museum and Library's Facebook page.
In BURIED (WWII and beyond): The Lost Art and Architecture of the Philippines, Paulo Alcazen, one of the country's award-winning architects, will be giving a lecture that will shed light on the structures and art works that survived WWII. If not recovered, we may be left with a skyline devoid of "cultural soul, social meaning, and experiential delight."
Paulo Alcazen is an award-winning practicing architect and consultant for urban design and landscape architecture. He has thirty years of combined experience and has worked on numerous projects all over the world while in Singapore. Today, he is the principal architect of PGAA Creative Design.
BURIED is happening on June 11 at the Lopez Museum and Library, G/F, Benpres Bldg., Exchange Rd., Pasig City from 2 p.m. to 6 p.m. Tickets are at P200 for adults and P100 for students, seniors, and Lopez Museum and Library members.
To register, please call 02-631-3417 or email lmmpasig@gmail.com. Look for Thea G. or Yna. You can also visit bit.ly/LMLBuried to register online. This public program is co-presented by First Philippine Holdings and brought to you in part by Gourmet Farms Inc.
Details:
What: BURIED (WWII and beyond): The Lost Art and Architecture of the Philippines
When: June 11, 2016, 2:00 pm – 6:00 pm
Where: Lopez Museum and Library, G/F, Benpres Bldg., Exchange Rd., Pasig City
Tickets: P200 for adults, P100 for students, seniors, and Lopez Museum and Library members
Registration: Phone 02-631-3417 (Look for Thea G. or Yna) | Email lmmpasig@gmail.com | Website bit.ly/LMLBuried
Source: Buried: The Lost Art & Lost Architecture of the Philippines event page