Getting Married Bridal Fair 2016
Come and join the Getting Married Bridal Fair on May 14 and 15 at the SMX Convention Center. Getting married isn't really an easy task especially if you're the one doing all the planning, arranging and setting up appointments. The hassle of searching for the best florist or designer and taking the time to go there is sometimes a waste of energy, but a whole day at the fair will definitely be worth it with it! With all the different participants at the fair, you are sure to find the best wedding coordinator, photographer, florist, and designer for that perfect wedding you've been dreaming of.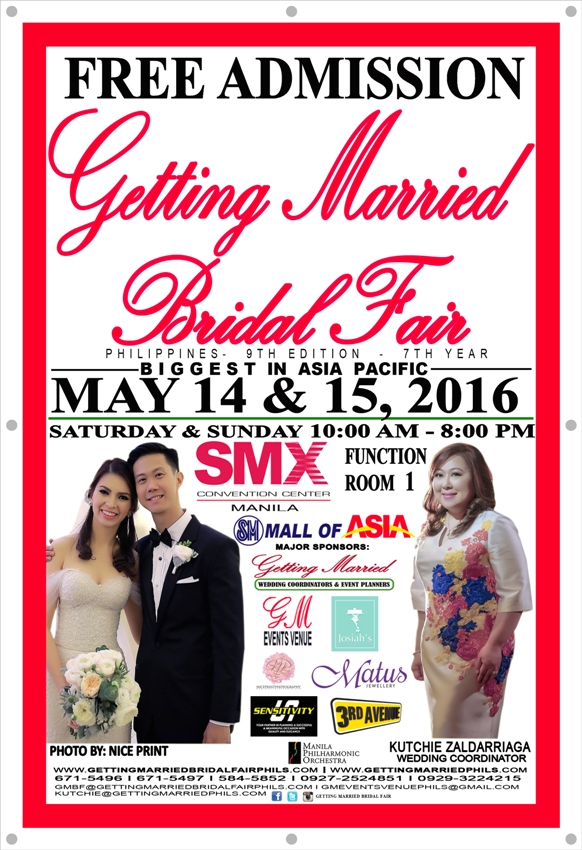 Admission is free, and if you want to avoid long lines and queues, you can register at their website. If you are interested to take part in the event as an exhibitor, they are still open for registrations! See you there soon to be brides and grooms!
Details:
What: Getting Married  Bridal Fair
When: May 14 – 15, 2016
Where: Function Room 1, SMX Convention Center, Seashell Ln, Pasay, 1300 Metro Manila
Website: http://www.gettingmarriedbridalfairphils.com/