13th Philippine Food Expo
The most awaited Food and Beverage expo is here!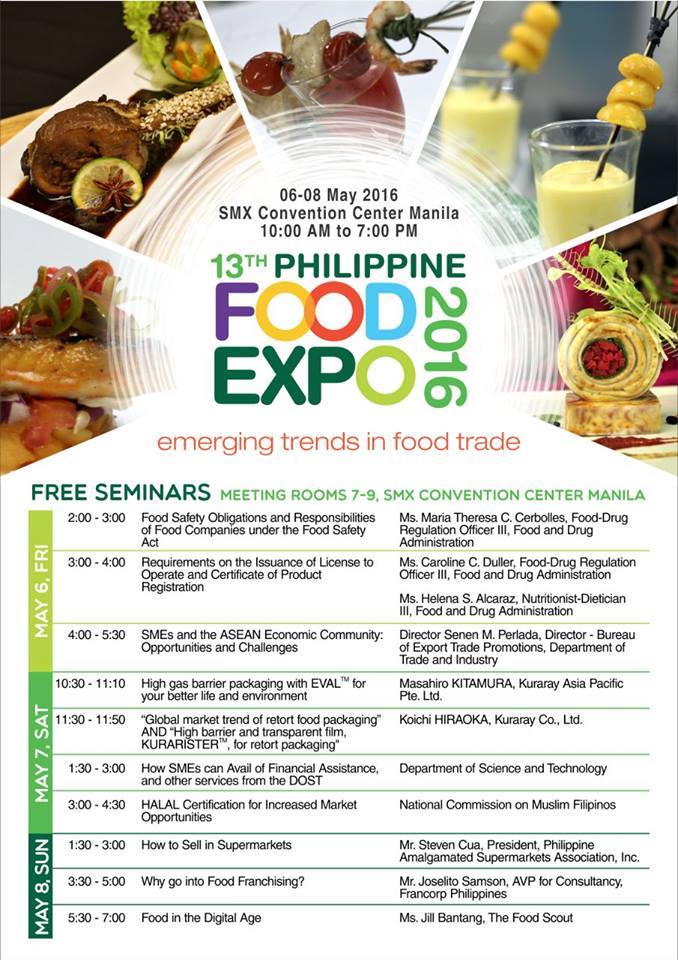 Catch the 13th Philippine Food Expo 2016 this May 6 to 8, 2016 at the SMX Convention Center! The only all-Filipino Food and Beverage expo in the country will once again be here to feature the country's best gourmet and delicacies offering in this event.
This expo supports local growers and entrepreneurs of the food and beverage industry by showcasing their products in this expo. Also, there will be seminars to be held, focusing on the emerging trends in the food trade. Through these free seminars, entrepreneurs and will be able to learn more about the trends which will help them in their businesses, and also, to get an advantage in the competition in the industry.
A series of special events will happen so you better take this chance to be part of this one of a kind gastronomic event in the Philippines! For more details, please check  the info below.
Details:
Where: SMX Convention Center, Pasay City, Metro Manila
When: May 6 to 8, 2016, 10:00 am to 7:00 pm
Website: http://www.philippinefoodexpo.com/
Email: philfoodexpo@yahoo.com
Facebook page: https://www.facebook.com/PhilippineFoodExpo (Philippine Food Expo)