Manila – PADI Member Forum 2016
Calling all professional diving instructors! The Professional Association of Diving Instructors (PADI) Asia Pacific will be holding its 2016 PADI Member Forum on May 16 at the Holiday Inn and Suites Makati.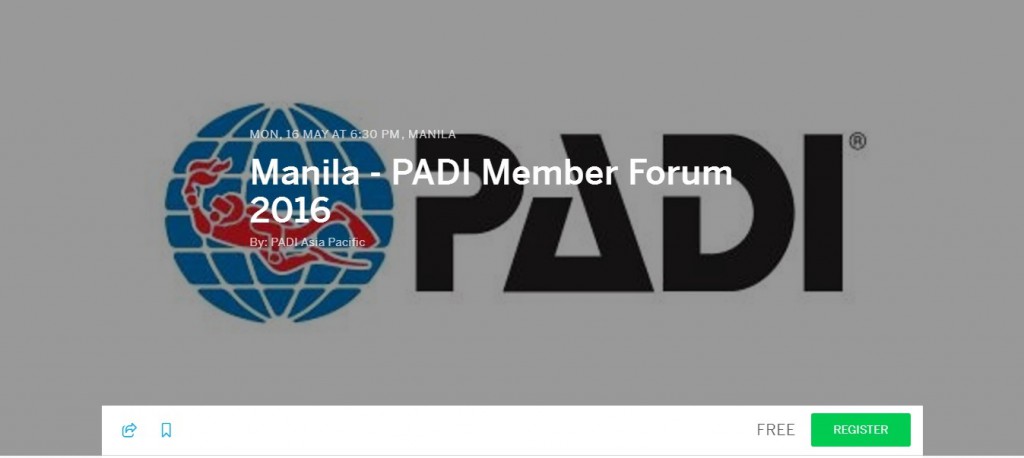 MANILA – PADI MEMBER FORUM 2016, happening on May 16. Screengrab from Eventbrite website.
All PADI-registered diving instructors are invited to this free event. Get up to speed on the latest trends, marketing efforts, and newly released PADI programs and services. The PADI Regional Manager will also be there to update everyone on standard changes, as well as review the latest in risk management and the latest Project AWARE campaigns for 2016.
The 2016 Manila – PADI Member Forum will be held at the Holiday Inn and Suites, Glorietta Mall, Palm Drive, Ayala Center, Makati on Monday, May 16 from 6:30 p.m. to 9:30 p.m. For more information about the 2016 Member Forum, you may contact:
Clare Smith
Territory Coordinator
PADI Asia Pacific
+61 2 9454 2827
Email: clare.smith@padi.com.au
Details:
What: Manila – PADI Member Forum 2016
When: May 16, 2016, 6:30 pm to 9:30 pm
Where: Holiday Inn and Suites, Glorietta Mall, Palm Drive, Ayala Center, Makati
Source: Eventbrite