Sustainable Enterprise Summit 2016
A global call for sustainable development has resulted in businesses across the globe integrating principles of sustainability in everything that they do. Enderun Colleges and JCI Manila have teamed up to present the Sustainable Enterprise Summit 2016, happening on May 17, to help further the call for sustainability.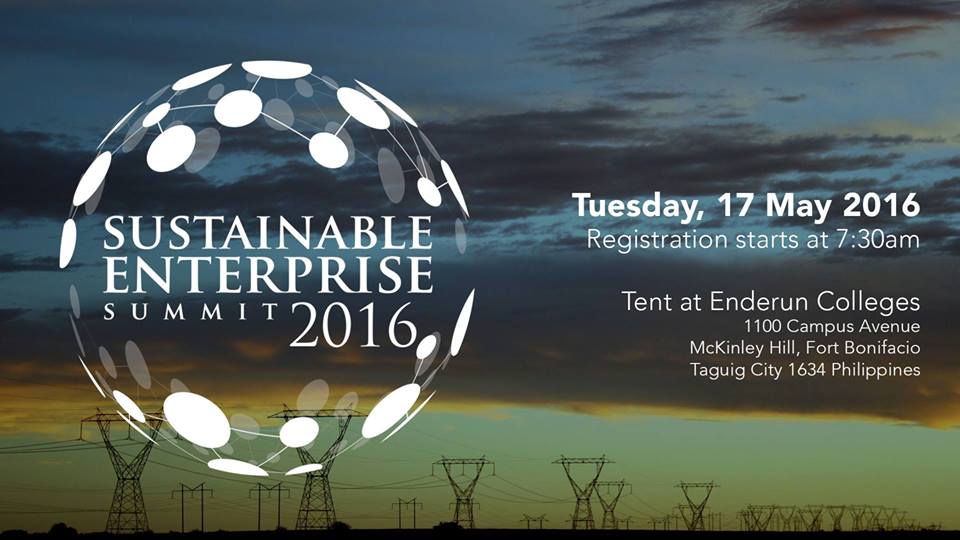 PUSH FOR SUSTAINABILITY. Enderun Colleges and JCI Manila present the Sustainable Enterprise Summit 2016. Photo courtesy of Sustainable Enterprise Summit Facebook event page.
Focusing on the theme "People. Planet. Profit.", the event aims to encourage businesses to engage in sustainable practices while maintaining profitability by helping to protect the environment and improve the lives of the society at large.
The summit itself will be a live forum with delegates from the country's top corporations talking about their strategies and challenges, as well as their success stories in sustainability.
Learn about current industry trends and technologies in the field of clean fuel and renewable energy from industry experts. Get an insight on the progression in green buildings and sustainable communities.
Corporate social responsibility, sustainability strategies, and industry trends will be discussed. Talk to experts and discuss the best practices for sustainability, how to establish a business with a purpose, and the ins and outs of social entrepreneurship.
Registration is until May 17, 2016, with rates at P2,800 for online registrants, and P3,000 for walk-ins. Take advantage of their Early Bird rates at P2,500, available until April 29, 2016. Limited slots are available, so register now!
The Sustainable Enterprise Summit will happen on May 17, 2016 at the Tent at Enderun Colleges, 1100 Campus Avenue, McKinley Hill, Fort Bonifacio, Taguig City, Philippines 1634. For more information including registration, visit www.sustainabilitysummit.ph.

Details:
What: Sustainable Enterprise Summit 2016
When: May 17, 2016
Where: Tent at Enderun Colleges, 1100 Campus Avenue, McKinley Hill, Fort Bonifacio, Taguig City, Philippines 1634
Registration starts at 7:30 am
Registration: http://www.sustainabilitysummit.ph/
Pricing:
Early Bird (until April 29 only): P2,500
Regular: P2,800
Walk-in: P3,000
Source: www.sustainabilitysummit.ph