ArtBGC Festival 2016
Murals are seen as an art form. It's a way to add color to a city that's often dominated by gray skyscrapers and black asphalt roads. Bonifacio Global City will soon join cities beautified by murals as it launches ArtsBGC Festival 2016 from May 12 – 20, 2016.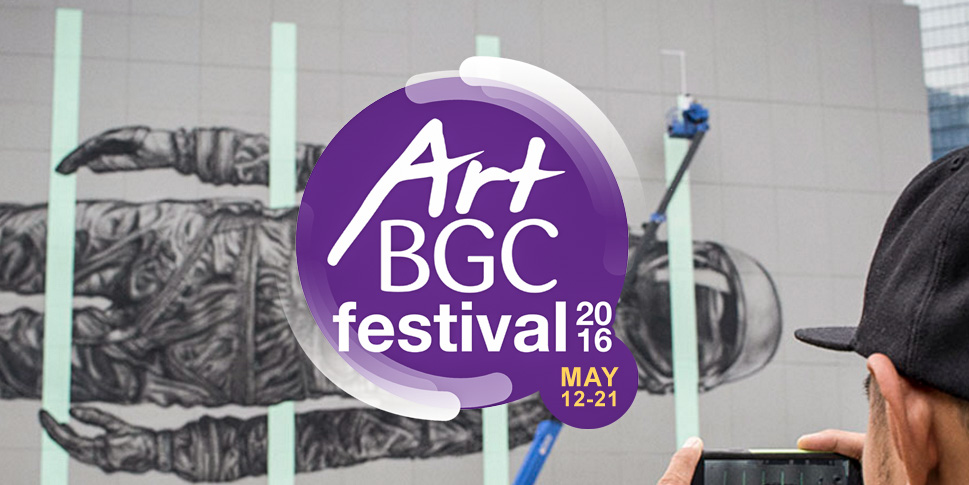 ARTSBGC FESTIVAL 2016. An art festival featuring international contemporary street artists and filmmakers. Screen grab from http://artbgc.com/.
ArtBGC Festival 2016 – a 10-day mural festival featuring a mix of international and local artists painting across the Bonifacio Global City (BGC) – is organized by the Bonifacio Arts Foundation (BAFI), along with LeBasse Projects & HoneycombArts.
Building on last year's successful arts and culture initiative, BAFI hopes that the size and scope of this project in BGC will continue to be a transformative event in the development of the budding business district.
Expect a unique sense of place and an experiential atmosphere for both locals and international visitors to BGC. BAFI aims to showcase the inclusive nature of public art by creating murals that can be enjoyed by the entire city of Manila as well as an international audience.
ArtsBGC Festival is more than just a mural festival. It will also act as an educational platform to enhance the arts and culture awareness of the community.
Several international artists will grace the event including HOTTEA, LI-HILL, and many more. They will be joined by Filipino artists Kris Abrigo and Trip63, as well as artists from the festival's open call.
Experience ArtBGC Festival 2016 from May 12 – 20, 2016, spread throughout Bonifacio Global City in Taguig. For more information, you may contact the organizers via their website, artbgc.com.
Details:
What: ArtBGC Festival 2016
When: May 12 – 20, 2016
Where: Bonifacio Global City, Taguig
Contact information: http://artbgc.com/contact/
Website: http://artbgc.com/
This article was taken from the ArtBGC website and edited for posting.