Nick Vujicic: Limitless Possiblities Live in Manila!
For the second time around, world renowned motivational speaker Nick Vujicic visits Manila this July 29, 2016, to inspire Filipino people about how he has overcome hurdles in life.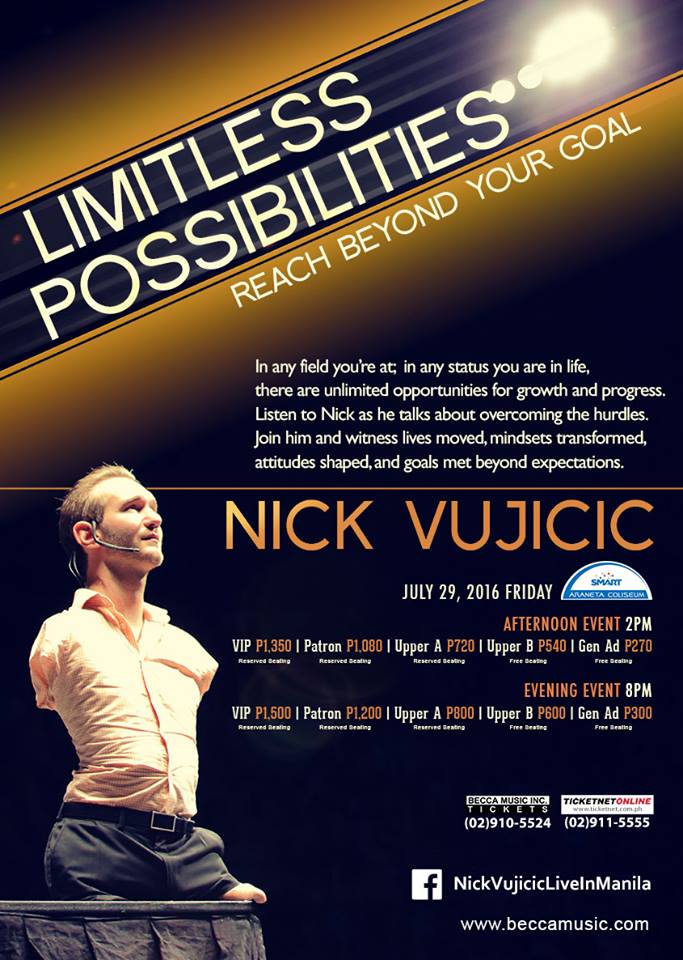 Vujicic, well known for being a Christian evangelist and speaker is born with Phocomelia, a disorder characterized for having no arms and legs. Being subjected to physical, emotional, and mental struggles, Vujicic remained to have faith despite the disability. Vujicic has travelled the world to share his story and messages of hope across the nation.
Get this chance to hear his story live and be inspired by his Christian faith! Get your tickets now. Details are found below.
Details:
What: Limitless Possibilities: Reach Beyond your Goal with Nick Vujicic
When: July 29, 2016
Where: Smart Araneta Coliseum
Schedule
AFTERNOON EVENT – 2PM
VIP (Reserved Seating) P 1350
PATRON (Reserved Seating) P 1080
UPPER A (Reserved Seating) P 720
UPPER B (Free Seating) P 540 
GEN AD (Free Seating) P 270
EVENING EVENT – 8PM
VIP (Reserved Seating) P1500 
PATRON (Reserved Seating) P1200 
UPPER A (Reserved Seating) P 800 
UPPER B (Free Seating) P 600 
GEN AD (Free Seating) P 300
Contact: Becca Music Tickets (910-5524); Ticketnet (911-5555)
Website: www.beccamusic.com
Facebook page: https://www.facebook.com/NickVujicicLiveInManila/ (Nick Vujicic Live in Manila 2016)