Last week to view Humo + Calligram Workshop at MET
Works of art often depict one of two things: a complete story, which illicit an immediate reaction from most people; and an incomplete narrative, which keeps people guessing about what came before and what will come after.
Mexican artist Florencia Guillén, Metropolitan Museum of Manila's 3rd international artist in residence, takes advantage of the latter in her exhibit called Humo. Take this chance to see her works, which are on view only until April 28.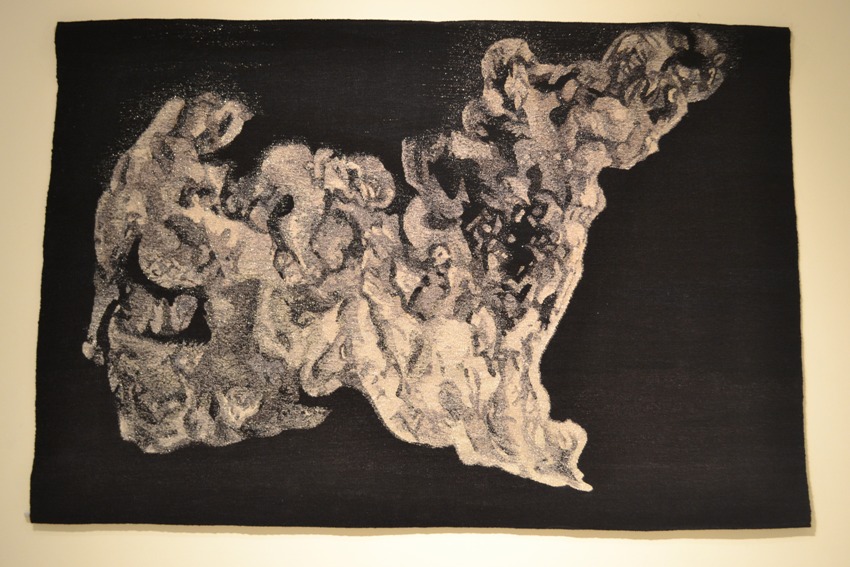 SMOKE WITHOUT FIRE (2015)
Humo, which is Spanish for smoke, revolves around the volcano as the central narrative. Most artists would focus on the explosion; Guillén focuses on the moments before and after. She gives audiences a glimpse of the beauty that was once there and the aftermath of the explosion.
MAGMA (2016)
One of the featured pieces in the exhibit is Guillén's Magma, a calligram of a volcano. A calligram is a piece of text arranged and designed in a way that creates a visual image from the words themselves. It is a combination of three skills – poetry, calligraphy, and drawing.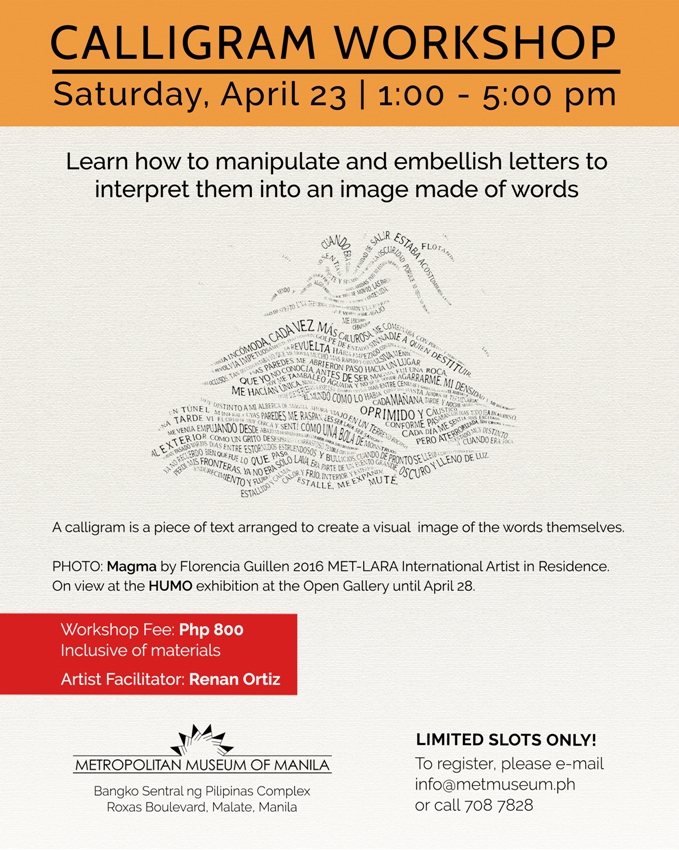 FROM HEARD TO SEEN, learn how to turn words into pictures at the MET's Calligram Workshop.
In line with this, the Metropolitan Museum of Manila will be offering a Calligram Workshop on Saturday, April 23 from 1 p.m. – 5 p.m., to be conducted by artist-art educator Renan Ortiz. Participants will be taught how to visually reinterpret and embellish letters into an image composed of related words.
The Calligram Workshop is open to interested participants of all ages. The fee of P800 is inclusive of materials and snacks. Slots are limited and early registration via email at info@metmuseum.ph is advised. For more information, call (02) 708-7828.
You can find the Metropolitan Museum of Manila at the Bangko Sentral ng Pilipinas Complex, Roxas Blvd., Manila.
Details:
What: HUMO
When: February 17 – April 28, 2016, Mondays-Saturdays, 10:00 am – 5:30 pm, Open Gallery
Where: Metropolitan Museum of Manila, Bangko Sentral ng Pilipinas Complex, Roxas Blvd., Manila
What: Calligram Workshop
What: April 23, 2016, 1:00 pm – 5:00 pm
Where: Metropolitan Museum of Manila, Bangko Sentral ng Pilipinas Complex, Roxas Blvd., Manila
Source: Metropolitan Museum of Manila Press Release
All photos courtesy of Metropolitan Museum of Manila