Solenn Art: Our People at Pineapple Lab
Solenn Heusaff is known by Filipinos for many things: modeling, acting, hosting, make-up… but not many known that she's also a visual artist. Not convinced? Then drop by the Pineapple Lab in Makati today and experience her first solo exhibition: Our People.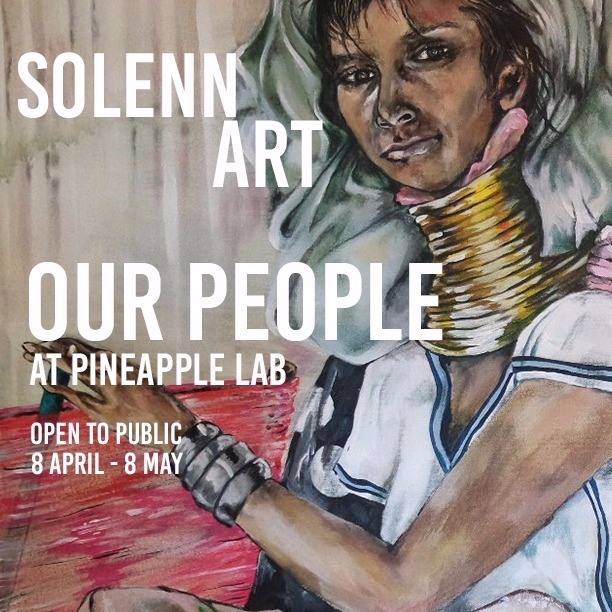 Solenn Heusaff's first solo exhibit: Our People. Photo courtesy of Pineapple Lab Facebook page.
Our People features over 20 of Solenn's paintings which took three years to complete. The exhibit features faces of people she or her family have photographed in their travels as well as some she came up with herself.
All of the paintings are on sale from P56,000 to P257,600.
Apart from her paintings, showcased on the first floor, she's also taken up the second floor to show her interest in interior decorating. Her two interior design collaborations include an embroidered carpet collection, done with Our Tribe, and a furniture collection with Philux.
Having studied fashion design, she's also set to have a fashion show at the end of the year in collaboration with fashion brand Mia Arcenas, with her paintings being featured in the designs.
Our People is open to the public free of charge, and will run until May 8 at Pineapple Lab, 6071 R. Palma St., Poblacion, Makati City. For more information, you can visit Pineapple Lab's Facebook page or call 02-834-5763.
Details:
What: Solenn Art: Our People
When: April 8 – May 8, 2016
Where: Pineapple Lab, 6071 R. Palma St., Poblacion, Makati City
Facebook: https://www.facebook.com/pineapplelabph