Bigger than ever: Intramuros Pasyal
Fancy a Sunday stroll? Why not do it in Intramuros? After a short break, Viva Manila is back with their flagship project, Intramuros Pasyal, happening this April 16 and 17!

BIGGER THAN BEFORE. Stroll through the streets of Intramuros and experience what a city should be like with Viva Manila's Intramuros Pasyal Sunday!
Viva Manila, a citizen-led organization, brings back its monthly event with a little something extra. This time, they've partnered with the Center for International Trade Expositions and Missions' (CITEM) Design Week Philippines, turning the event into a huge gathering of people who love art, culture, and everything that you'd want out of Intramuros.
This time, they're taking things up a notch with a two-day street fair along Gen. Luna Street. Expect artisanal goods, art, live performances, and lots and lots of food.
Interested in sketching? Urban Sketchers will be giving workshops around Intramuros, teaching people how to capture moments without the use of cameras or smartphones.
And the best part? Entrance is free! Make your way to Gen. Luna St., between Plazuela De Sta. Isabel and San Agustin Church, and enjoy Intramuros Pasyal. For more information, please visit the Intramuros Pasyal event page on Facebook. Want to know more about Design Week Philippines? Visit their website to learn more.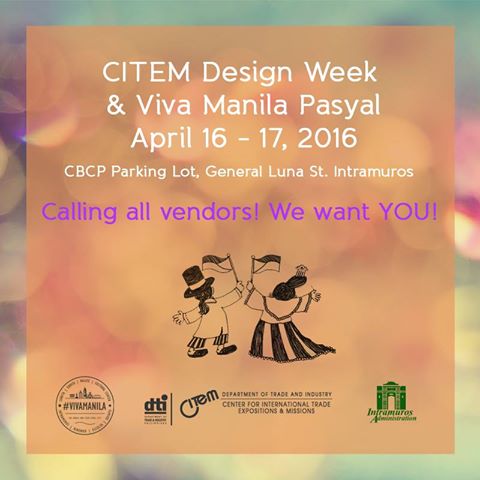 CALL FOR VENDORS
Are you a vendor who wants in on the fun? Click here to know more about joining Intramuros Pasyal Sunday as a vendor.
Details:
What: Intramuros Pasyal
When: April 16-17, 2016, 3:00 pm – 10:00 pm
Where: Gen. Luna St., Intramuros, Manila (between Plazuela De Sta. Isabel and San Agustin Church)
Source: Intramuros Pasyal Sunday event page, Design Week Philippines
Photos via Viva Manila Facebook Page