Save the Date: Bridal and Debut Fair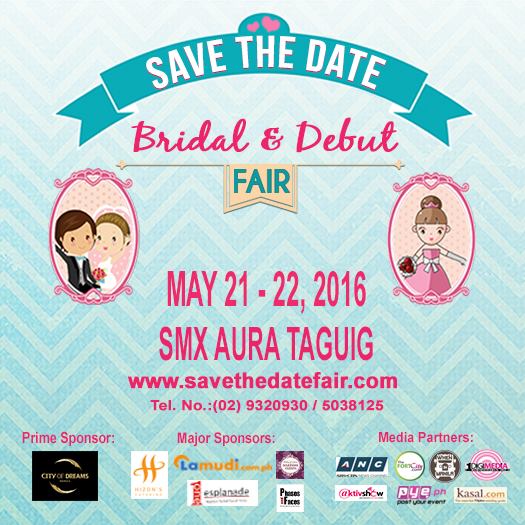 For your bridal and debut needs, save May 21st and 22nd for the 3rd Season of Save the Date: Bridal and Debut Fair, happening at SMX Aura. The two day event will feature hotels, resorts, venues, and even event coordinators and other services for that upcoming debut party or that special day.  Have that one shop stop as they also have forums and discussions that will be led by some of the best-known personalities in the industry to discuss some techniques and give tips to debutants, soon to be brides and people in the business.
Register now and get a chance to win free accommodations for two nights in Boracay as well as free gifts from the organizers, Solutions Events.
Details:
What:
Save the Date: Bridal and Debut Fair
When:
May 21 – 22, 2016
Where:
SMX Aura Taguig, SM Aura Premier, McKinley Parkway, Taguig, 1634
Facebook:
https://www.facebook.com/SaveTheDateFair/
For more information and registration inquiries
Website: http://www.savethedatefair.com/register/