Mariah Carey Philippines presents "The Butterfly"
Prepare for an all-Mariah Carey set as Mariah Carey Philippines, Asia's biggest and longest-running Mariah fan community, presents The Butterfly, a one-night only benefit concert happening at the Music Museum this March 16!

#THEBUTTERFLYCONCERT. MCareyPH presents The Butterfly: a benefit concert featuring music from the bestselling female recording artist.
Performing in the one-of-a-kind concert are singer-songwriter Jeff Cifra, Jay MC Pengson, Crissy Rendon, and Russel Dionela. Apart from being seasoned performers, all four are also die-hard fans of Mariah Carey and know her songs by heart. Other performers include Kiko Salazar, Toff Guela, and internet sensation Lloyd Cadena.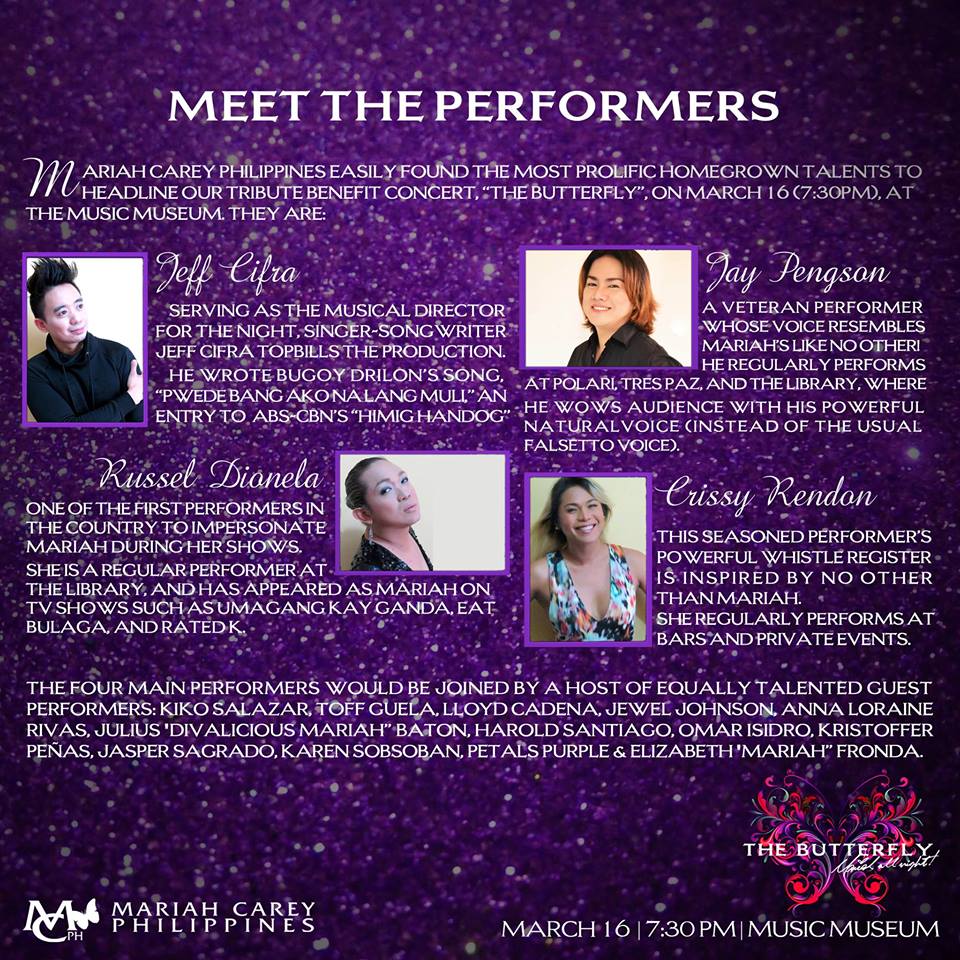 PERFORMERS X DIEHARD FANS. Who better to bring Mariah's music to life?
Apart from being a tribute concert to the bestselling female recording artist, a portion of the proceeds from The Butterfly will go to three charities, one of which is Blood Brothers' Aid, Inc. Blood Brothers' Aid, Inc. is an organization that supports the welfare of hemophiliacs, a genetic, incurable bleeding disorder.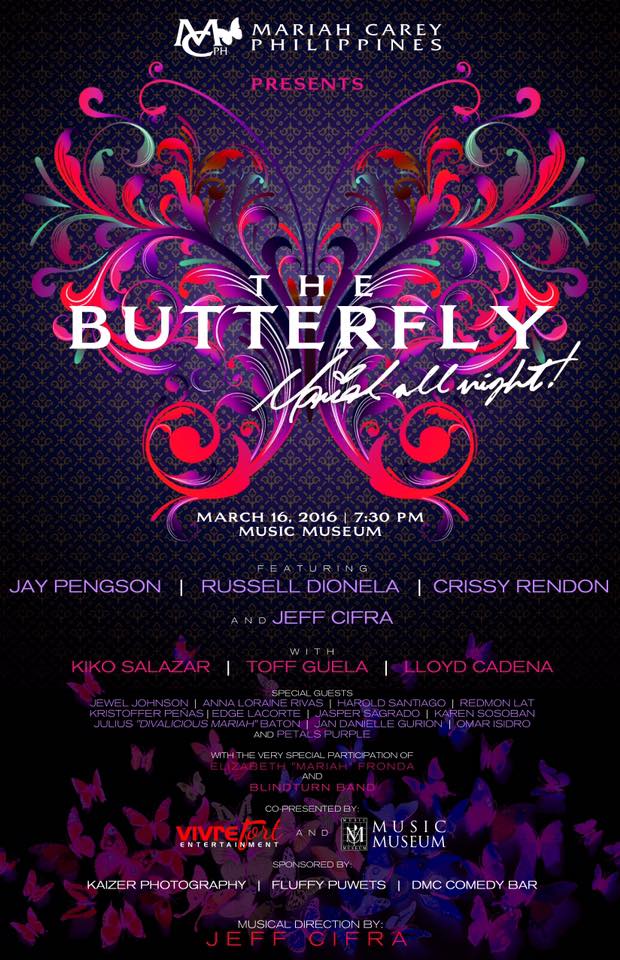 FULL DETAILS
Mariah Carey Philippines: The Butterfly is happening on March 16, 7:30 p.m. at the Music Museum, Greenhills San Juan. Ticket prices are from P300 to P800, and are available at SMtickets.com. For more information, please like and follow Mariah Carey Philippines on Facebook, Twitter (@MCareyPH), and Instagram (@mcareyph).
Details:
What: Mariah Carey Philippines: The Butterfly
When: March 16, 2016, 7:30 pm
Where: Music Museum, Greenhills, San Juan
Ticket prices: P800 Daydream (Orchestra), P500 Rainbow (Orchestra Side), P300 Glitter (Balcony)
Ticket information: https://smtickets.com/events/view/4130
Facebook: https://www.facebook.com/MCareyPh/
Twitter: https://twitter.com/mcareyph
Instagram: https://www.instagram.com/mcareyph/

Source: Mariah Carey Philippines, SMtickets.com
Photos courtesy of: Mariah Carey Philippines