Malasimbo Festival 2016
If you're looking for the best musicians and artists in the country, your search is already over. Head on over to Puerto Galera today and experience the Malasimbo Festival, happening on two separate weekends this March on Mount Malasimbo, Oriental Mindoro.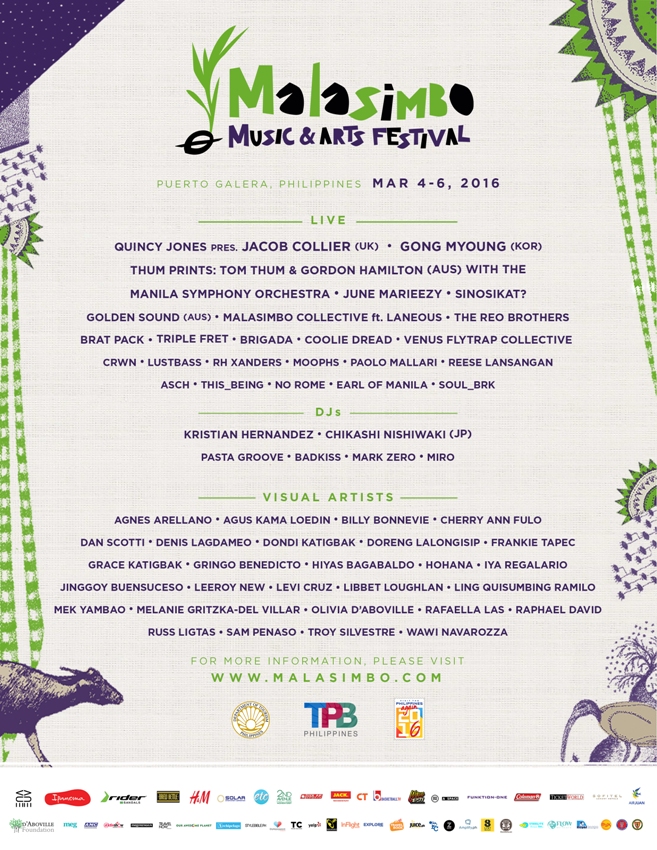 MALASIMBO MUSIC AND ARTS FESTIVAL. Virtuosos and visual artists abound.
The Malasimbo Music and Arts Festival, happening from today, March 4, to March 6, is a gathering of music virtuosos from all over the world, including UK musician Jacob Collier and Korean Gong Myoung, along with local acts such as SINOSIKAT?, Brigada, and the Reo Brothers. Make sure to catch Brat Pack, the only Asian blues band to reach the finals of the International Blues Competition in Memphis, Tennessee.
Malasimbo Music and Arts Festival features soul, jazz, and world music, along with electronic and hip-hop. A blend of traditional and contemporary arts and culture will surely enchant anyone who watches.
MALASIMBO LIGHTS AND DANCE FESTIVAL. A celebration of the best DJs and dance crews.
The best DJs come together for the Malasimbo Lights and Dance Festival, happening from March 24 – 26. This is where the festival kicks into high gear, with the best funk, hip hop, house, and electronic music acts team up with some of the best dance crews to put on a show for the ages. Oh, and did we mention the amazing light show?
Watch out for beats from Lapalux, DJ Kentaro, Onra, and San Soda. Also, try to manage your oohs and aahs as the Philippine All Stars and Planet Zips put on a show.
For more information and to get tickets for the Malasimbo Festival, please visit http://malasimbofestival.com/. Please be advised that tickets for today's Music and Arts Festival can only be bought on-site.
Details:
What: Malasimbo Festival 2016
When: March 4-6, 2016 and March 24-26, 2016
Where: Malasimbo Amphitheatre, Puerto Galera, Oriental Mindoro, Philippines
Website: http://malasimbofestival.com/

Source: malasimbofestival.com
Photos courtesy of: malasimbofestival.com