TWOFOLD: Dear Artist | Double Consciousness
Come and wonder at the works of Manila based artist, Lyra Garcellano, in TWOFOLD: Dear Artist | Double Consciousness from February 4 to March 15, 2016 at the UP Vargas Museum.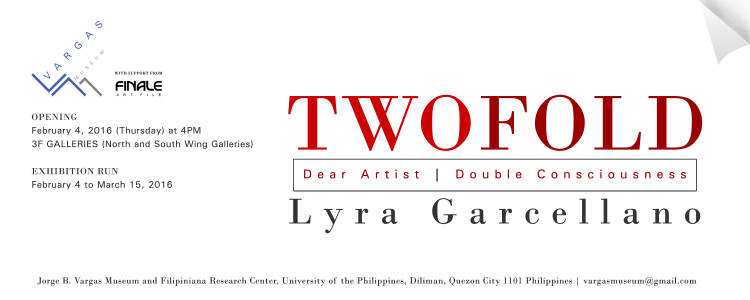 Garcellano, a graduate of Bachelor of Fine Arts and Interdisciplinary Studies, takes an anthropological approach in her artworks dealing with notions of everyday. TWOFOLD is composed of Garcellano's two projects, Dear Artist and Double Consciousness that explores the relationships of cultural institutions and artistic production.
It opens a platform of critique, showing how an artist becomes a part of a very operational structure, and at the same time engaging with the system. It comes together as one, revealing how artists present themselves through their artwork.
This exhibit is done in cooperation with Finale Art File.
Details
What: TWOFOLD: Dear Artist | Double Consciousness by Lyra Garcellano
When: February 4 to March 15, 2016
Where: 3F Galleries (North and South Wing Galleries), UP Vargas Museum, Roxas Avenue, Quezon City
Email: vagasmuseum@gmail.com
WordPress: https://vargasmuseum.wordpress.com
Telephone Number: 02-928-1927 (Direct Line) / 02-981-8500 loc 4024 (UP Trunkline)
Facebook: https://www.facebook.com/events/1112546282091481/
Website: http://vargasmuseum.upd.edu.ph/
Instagram: https://www.instagram.com/UPVargasMuseum/ (@UPVargasMuseum)

Source: vargasmuseum.wordpress.com