Ayala Museum presents A Taste of Gutai from the Collection of Lito and Kim Camacho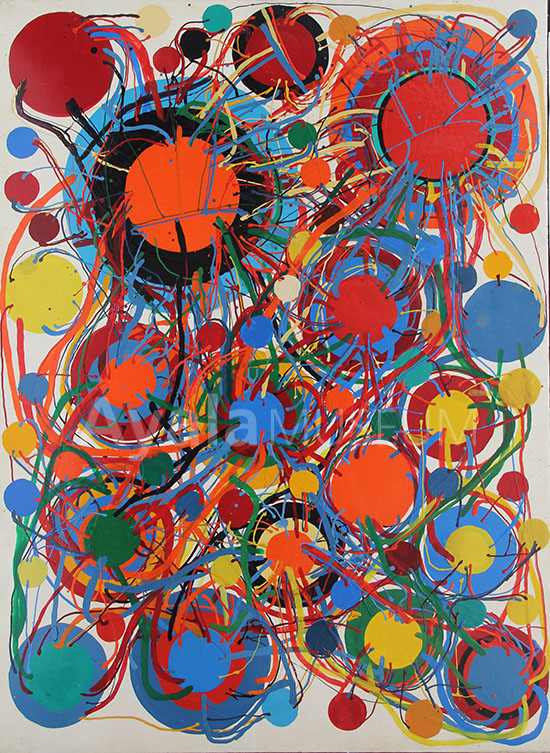 MAKATI CITY, PHILIPPINES—Ayala Museum, in partnership with Mitsubishi Corporation, with special participation of The Japan Foundation, Manila and Sony Philippines, proudly presents its opening exhibition for 2016 entitled A Taste of Gutai under the Collectors Series program running from February 5 to April 10, 2016 at the Ayala Museum Ground Floor Gallery.
This exhibition pays homage to Gutai, a Japanese art movement defined by a radical and energetic approach to artmaking that encompassed performance, painting, installation, and theatrical events, anticipating what would soon be popular movements in contemporary art following Abstract Expressionism.
Scheduled to open in time with Art Fair Philippines, the annual celebration of contemporary art in the Philippines and the region, A Taste of Gutai includes over eighty paintings and sculptures by members of Gutai who made use of unconventional, highly physical techniques such as painting with feet, wrestling in cement and gravel, and deploying paint from elevated surfaces and cannons to create art. Later on, they also created works using sound, space, light, and performance, and would often stage them in public or in the presence of the media to spread their ideas across the globe.
Founded by Jiro Yoshihara, the Gutai movement was composed of artists based in the Kansai region whose works caught the attention of artists and art critics outside of Kansai, and subsequently led to major Gutai exhibitions in Tokyo, Europe, and America. They also collaborated with other artists' groups in Europe and America, including Allan Kaprow's Happenings, the Art Informel group, and the Dutch Nul collective.
The objects on display in A Taste of Gutai were loaned from the private collection of Lito and Kim Camacho and the exhibition is held under the Collectors Series program. Through Collectors Series, Ayala Museum is able to showcase several works, which have not been publicly displayed. Private collections are personal narratives of the fascination, passion and persistence shown by individuals towards a particular artist. Their personal holdings embody certain aspects in the development and evolution in the artist's practice, and expand the discussion and understanding of modern and contemporary art here and abroad.
Ayala Museum is located at Makati Avenue corner De La Rosa Street, Greenbelt Park, Makati City and is open Tuesday to Sunday from 9 AM to 6 PM. For inquiries, email hello@ayalamuseum.org or call (632) 759 82 88 local 35.

This is a press release from Ayala Museum
Photo courtesy of: Ayala Museum website