Cosmetologie 2016
If you're into beauty and wellness, or would like to explore beauty products, hair dressing techniques, and much more, then you have to be at this year's Cosmetologie 2016 happening at the SMX Convention Center in Pasay City on Feb. 16, 2016!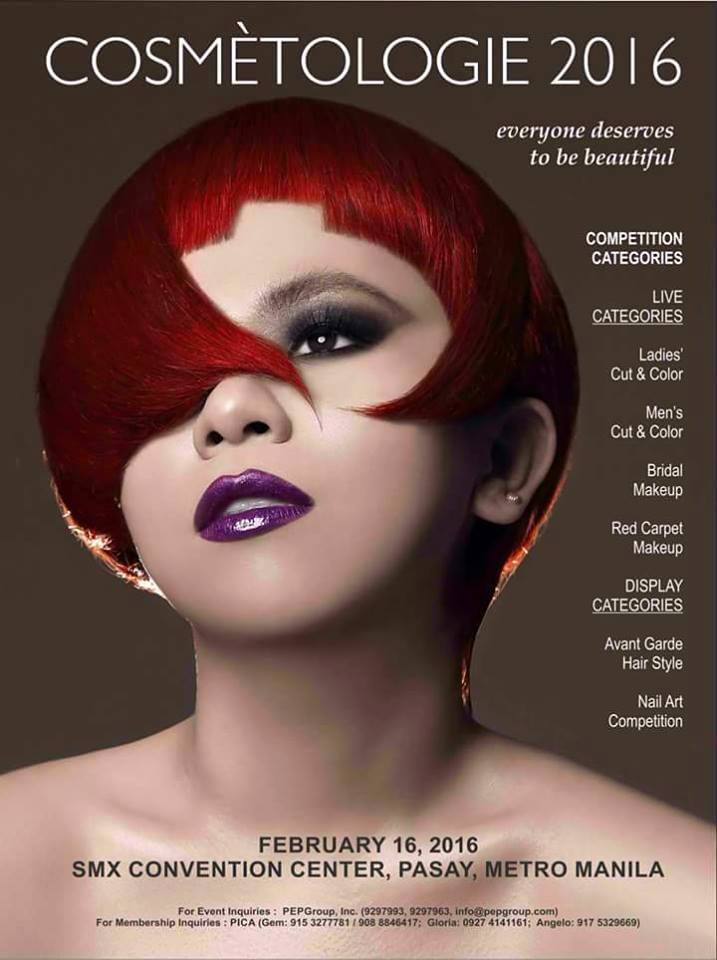 Cosmetologie 2016 is the biggest gathering of suppliers, stylists, salon owners, and beauty enthusiasts in the country. It aims to create critical awareness for beauty and wellness brands floating just under the radar and improve the over-all quality of beauty and wellness in our country.
This year's event has 2 categories: Live and Display. There are four sub-competitions under the Live category, namely Ladie's Cut and Color, Men's Cut and Color, Bridal Make-up, and Red Carpet Make-up. The Display category is separated into the Avant Garde Hair Style and Nail Art competitions.
This event is presented by the Philippine International Cosmetologists Association (PICA) and PEP Group, Inc.
PICA is the country's biggest organization of hair and make-up professionals "committed to the success of our members through innovative education, legislative advocacy, networking, and building relationships to shape the destiny of our industry" (from PICA Facebook page). It is also the only organization accredited by TESDA to certify professional stylists in the Philippines.
So what are you waiting for? Mark your calendars now and join Cosmetologie 2016! Remember: Everyone deserves to be beautiful.
For more information, you can visit PICA's Facebook page.
Details:
Cosmetologie 2016
SMX Convention Center, SM Mall of Asia, Pasay City
Feb. 16, 2016