The Game's Afoot
Come and see Broadway play goodness in this hilarious comedy play brought to us by the Repertory Philippines. The winner of the 2012 Edgar Award for Best Play, The Game's Afoot, will be performing live in Manila this January 15-February 7, 2016 at Greenbelt Mall 1, Makati City.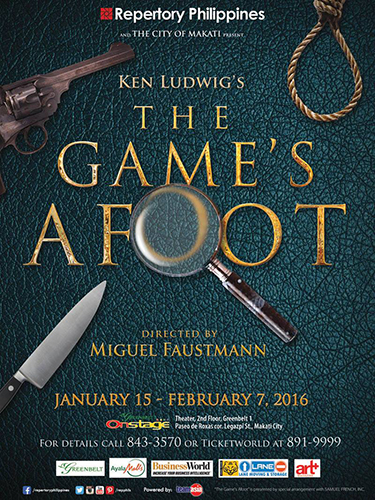 American playwright Ken Ludwig's The Game's Afoot will take us to a thrilling comedy adventure as the play delivers a great theatrical entertainment for people wanting to see a top-caliber comedic performance here in the Metro.
The play is about a Broadway star William Gillette who played the lead role Sherlock Holmes, who invited his fellow cast members to his Connecticut castle for a weekend celebration. Drawing-room mystery begins when one of their members gets stabbed to death and Gillette assumes his persona as Holmes. Hilarity ensues when Gillette tracks down the killer as you watch this immensely funny play.
Get ready to watch a great theater performance that you'll surely love! For more details about the play, see the information below.
DETAILS
What: The Games Afoot
When: January 15 – February 7, 2016
Where: Onstage Theatre, 2nd Floor, Greenbelt Mall 1, Paseo de Roxas, Makati City
Ticket Details: (ticketworld.com.ph)
Price Zone 1
LOWER & UPPER ORCH. CENTER
(Reserved Seating)
P 836
Price Zone 2
LOWER & UPPER ORCH. LEFT & RIGHT
(Free Seating)
P 627
Price Zone 3
BALCONY (Free Seating)
P 418