Abubot at Samutsari Pop Up Store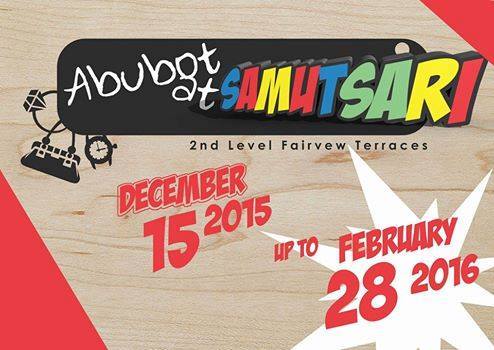 Now's the right time to spend your remaining Christmas money as Abubot at Samutsari Pop Up Store is still open up to February 28!
If you're not a fan of luxurious shopping, why not go to bazaars instead? Abubot at Samutsari might just be the one thing that will make your shopping dreams come true! This event organized by Zelt Concepts and Events Management began in December 2015, which is still ongoing at present.
See if you can score some unique items you can get among the stalls available at the Fairview Terraces Mall. Various stalls will be there that sell many bits and pieces that you may like. Also, while you're there, why not go on a post-holiday shopping spree?
See you there!
DETAILS:
What: Abubot at Samutsari Pop Up Store
When: December 15, 2015 up to February 28, 2016
Where: Fairview Terraces, Quezon City

Photo from whatshappeninng.com.ph