Tom Jones in Manila 2016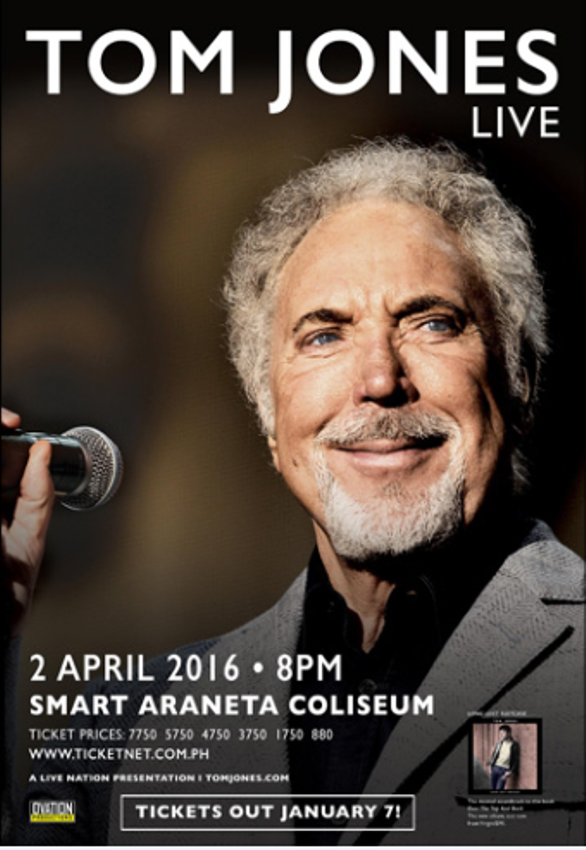 Come and listen to the classic hits of the 60s as international balladeer and artist Tom Jones is set to come back in Manila this 2016. Jones is famous for his songs which sold over a hundred million record copies nationwide. His most popular songs include the surefire hits "Green, Green Grass of Home, "Delilah," and "Sex Bomb" which topped numerous music charts both in the United Kingdom and in America.
The award-winning singer's rise to fame started when he and his group played at gigs in dance halls and performed in Las Vegas. Tom Jones became famous as well when it comes to his style of dress which later becomes a part of his stage act. His half-unbuttoned shirt plus tight trousers also became part of him being iconic in the field. Tom Jones' robust baritone voice made him one of the most recognizable singers in his generation.
Join the crowd as you hear Tom Jones perform live in Manila on April 2, 2016 at the Araneta Coliseum. Groove with his classic jams and relive the music for some throwback moments as you see him perform live on stage. Tickets are available on January 7 at TicketNet online. This concert is produced by the Ovation Productions.
Details
What: Tom Jones live in Manila
When: April 2, 2016 (8 pm)
Where: Smart Araneta Coliseum
Ticket Prices: P7750 | P5750 | P4750| P3750| P1750| P880