Boyce Avenue Philippine Tour 2016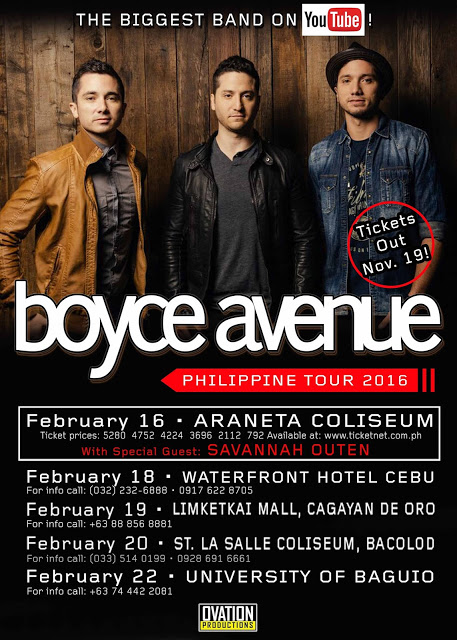 Sing along with the acoustic jams of YouTube Boyband Sensation Boyce Avenue, as they perform live for a five day-Philippine tour this coming February 2016. Come and hear them perform their popular renditions of the hit songs "Here Without You," "It Will Rain," "A Thousand Years" and many other tracks to get a chance to see them perform on stage.
The American Rock band Boyce Avenue became famous for their own acoustic renditions of the popular songs in this generation. The band, formed by the Manzano brothers, became popular for uploading their versions on YouTube, which became a hit to their now millions of fans around the world. Gaining popularity with their YouTube channel, the band has now released and produced its own original music before signing to a record label. The album was launched last June 2010 with its first music video released the following year.
Boyce Avenue still maintain their popularity as they upload new videos on their channel by making cover collaborations with the other YouTube artists such as Kina Grannis, Hannah Trigwell, Alex Goot, Megan Nicole, and a lot more.
Boyce Avenue will be joined by fellow musician Savannah Outen on their tour next year at the 5 major cities in the Philippines. The concert is produced by the Ovation Productions.
Details
What: Boyce Avenue Philippine Tour 2016
When & Where:
February 16: Araneta Coliseum, 8 pm (Smart Araneta Coliseum, Araneta Center, Quezon City)
February 18: Waterfront Hotel Cebu
February 19: Limketkai Mall, Cagayan de Oro
February 20: St. La Salle Coliseum, Bacolod
February 22: University of Baguio