Fil-Toon Comic Con 2016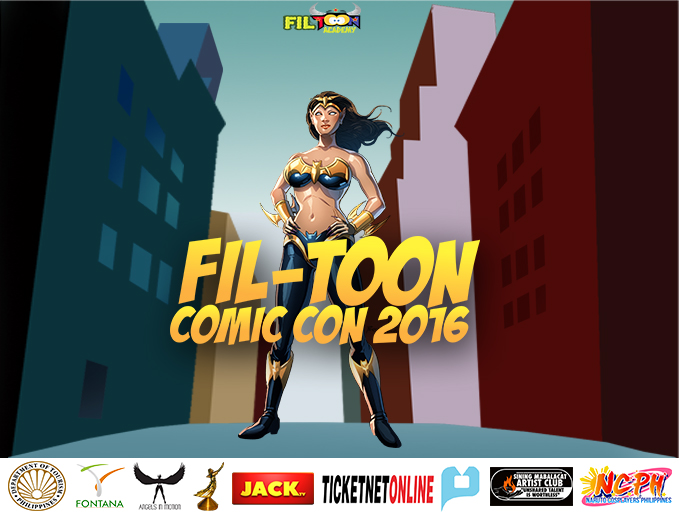 Explore the Art and Comic Industry through Fil-Toon Comic Con 2016
Join the gathering of world renowned Filipino comic artists who have made names in the local and international comic industry at the Fil-Toon Comic Con event this January 30-31, 2016.
Let your creative juices flow as you learn and get inspired by the Filipinos who have once made Philippines proud with their artistic talents.
Fil-Toon Academy, Inc. will hold its first and biggest comic event in the Philippines, which aims to showcase Filipino Art through the workshops, contests, and exciting events that will be part of the program. With these, you can have a chance to win exciting prizes and giveaways. This event is open for everyone: from kids, students, professionals, and even senior citizens. Some of the artists and speakers who will attend are Jess Espanola, one of the geniuses behind the popular animated series "The Simpsons," and Doris Rodriguez, an owner of an animation studio.
The spearhead of this event– Fil-Toon Academy, Inc. is a nonprofit organization which is composed of artistic individuals who aim to recognize Filipino talents in the art industry. The organization is also known for acknowledging underprivileged local talents who have the potential to become world's greatest animators, filmmakers, and illustrators in the future.
The event is helpful in boosting tourism and also, taking Filipino art industry into greater heights. Join the event and see the success wonders of local art and comic industry in the Philippines.
Details:
What: Fil-Toon Comic Con Philippines 2016
When: January 30-31, 2016 (9 AM- 10 PM)
Where: Fontana Leisure Park, Clark, Pampanga
Ticket Prices:
P500 one day pass
P850 two day pass
P250 -students and cosplayers
20% discount – seniors and PWD
Below 7 years old is free