Andrew Laing's Whisky Pairing Dinner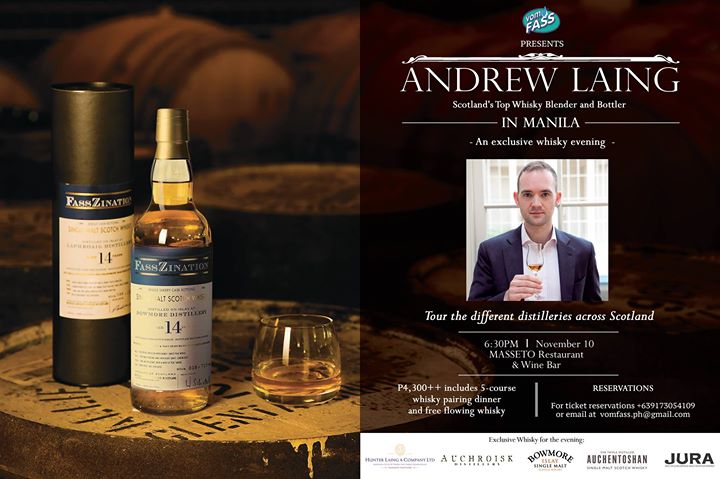 A taste of Scotland's finest
Andrew Laing of Hunter Laing & Co, one of Scotland's top independent whisky bottlers and blenders, is coming to Manila from November 9-11th. There will be a whisky pairing dinner on November 10 at the Masseto Restaurant and Wine Bar in Valero St., Makati. This evening of wine tasting promises to be a journey to Scotland's different distilleries and a showcase of some of its premier wines to satisfy connoisseurs' sophisticated palates.
Enjoy the 5-course whisky pairing dinner with free flowing whisky for only P4,300++, special signed bottles exclusive for the evening, and great food to compliment the whisky.
Special bottles to be paired for the evening are:
Auchentoshan 12 yrs Limited Single Cask Bottling, Bowmore 14 yrs Limited Single Sherry Cask Bottling, Auchroisk 21 yrs, Great Glen 8 yrs, Isle of Jura 9 yrs and Macspey 10 yrs.
Seating is limited so early reservation is advised. For more information, contact 09173054109 or email vomfass.ph@gmail.com.