Join the Fun at Ateneo MEA's Bright Lights Christmas Bazaar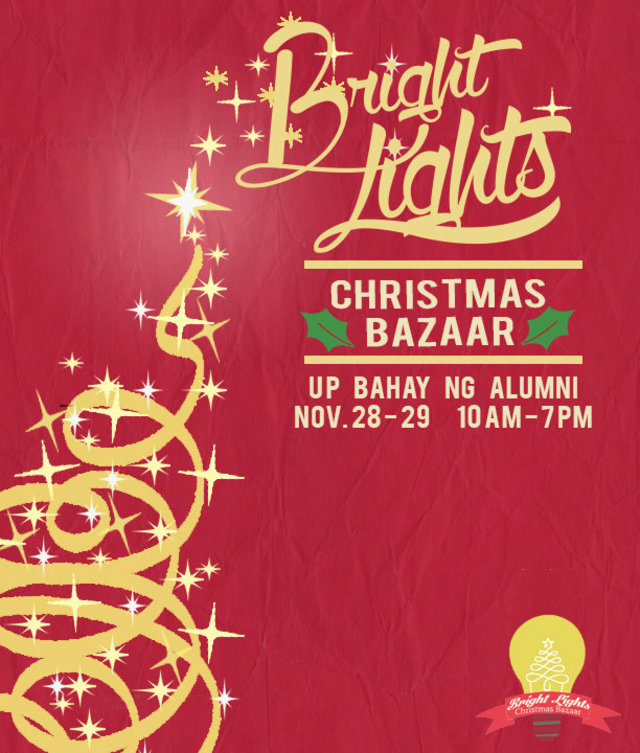 Come and join the fun at one of the largest and most-awaited events held by the Management Engineering Association, the Bright Lights Christmas Bazaar
The following is a press release from the Ateneo de Manila Management Engineering Association
Come and join the fun as we usher in the Christmas season at one of the largest and most-awaited events held by the Management Engineering Association, the Bright Lights Christmas Bazaar.
Mark your calendars and join us at the UP Bahay Ng Alumni on the 28th and 29th of November from 10AM to 7PM, and get ready to celebrate and splurge on amazing deals as we bring you one of the grandest Bazaars to visit this Christmas.
The Management Engineering Association (MEA) is the home organization of the Ateneo's Management Engineering majors, and one of the university's largest and most influential organizations. The Bright Lights Bazaar, MEA's largest financial project, is an annual Christmas Bazaar and raffle aimed at raising funds for MEA and its other projects.
At the Bright Lights Bazaar, you can shop for amazing presents for you and your loved ones, both naughty and nice, as this year we bring you a wide selection of goodies straight from Santa's sleigh: trendy apparel, fun toys, cool gadgets, yummy treats, novelty items and more, plus the chance to win grand prizes as we mark the beginning of a collaboration with the ME Raffle Event. Share in the Christmas spirit at the Bright Lights Bazaar, where you are sure to find the perfect presents and additions to your Christmas wish list, and share in a memorable experience with friends and family as we kick off the much celebrated holiday season.