Halloween Activities in Manila
Where to party and reflect for Halloween
As it's a tradition for Catholics to pay respect for their departed loved ones during All Saint's Day (Nov 1) and Soul's Day (Nov 2), majority of Filipinos will surely be flocking the graveyards starting this weekend. So what would the expats be doing then?
Modern Filipinos have also adapted the western ways of celebrating Halloween. This means that numerous parties and happenings are scattered all throughout the city, while young urbanites hop from one party to another, dressed in their scariest (or trendiest) Halloween costumes.
If you want to party like the locals this Nov 30 and 31, here are some places you can go:
Go on a trick or treat on a haunted location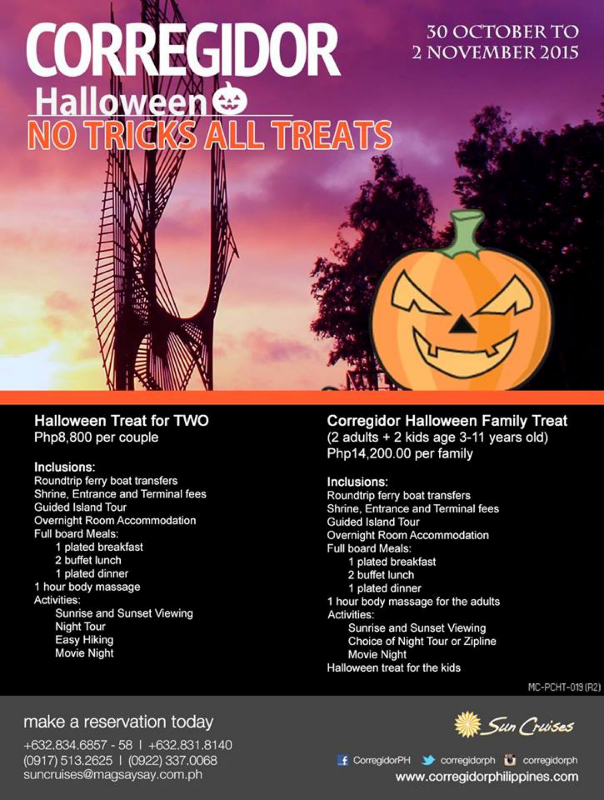 If you want to really scare yourself, why not go to a site where real ghost huntings take place? During World War II, Corregidor is one of the places where many Filipino guerilla fighters and American soldiers were imprisoned and killed. This Halloween, treat yourself (and your friends) to an overnight stay, movies and night tour of the island and discover the hidden treasures of the island. Sun Cruises is the exclusive tour arranger for Corregidor. For more information, go to http://www.corregidorphilippines.com/packages.html
–
Escape the (haunted) museum!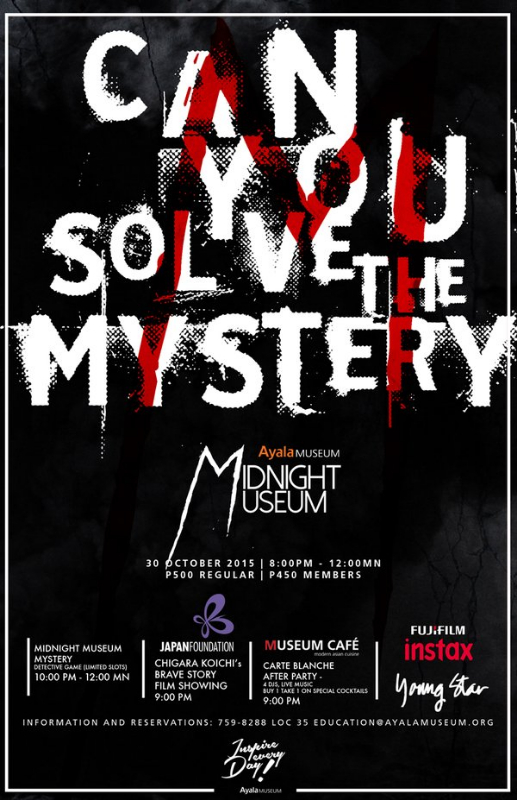 Have a different kind of Halloween experience wandering among the darkened halls of Ayala Museum? Who knows the person beside you might be a spectre? Now on its second year, Ayala Museum's Midnight Museum allows its guests to wander its halls in the cover of darkness. On October 30, 2015,  all galleries will be open for viewing from 8 PM until 12 MN. Follow Ayala Museum on Facebook and ayalamuseum.org
–
Party Monsters
• Slash Cosplay and Halloween Celebration at Dusit, Makati – Show up in your best cosplay attire and party at UMU Japanese Restaurant at Dusit Hotel. Tickets are priced at PHP1,600 net per person and inclusive of unlimited sushi, sashimi, teppan grilled meats and free-flowing drinks. Call Dusit Thani Manila to reserve at 238-8888.
• Playboy presents Halloween Ball at the City of Dreams Manila with music to be provided by Playmate Arra Pascual featuring D-Wayne. Tickets priced at PHP1,000. For tickets, go to smtickets.com
–
For the Family
• Trick or Treat at Acacia Hotel Manila – Hansel and Gretel to provide fun and treats for kids on October 31, 2015. For only PHP995/nett. For more details, go to Acacia Hotels Facebook
• Monstrous Terrors Kiddie Halloween Party – For only PHP650/nett, kids are entitled to hearty snack buffet, assorted snack stations, assorted games and prizes, a magic show, glitter tattoo and photo booths, a loot bag, and the scary Monster House.  For more information, go to Eastwood Richmonde Hotel Facebook
–
Article by Melanie Suzon